Q ~ Can you tell us a bit about yourself?
Well, over the last two decades I've lived and worked in the U S and British Isles for long stretches of time. I think that qualifies me as a Mid-Atlantic species.:) Though reading has always been one of my greatest pleasures, I didn't pick up a romance book until I was twenty-four. It hooked me and started me on the road to publishing. In my spare time, I enjoy horseback riding and golf.
Q ~ If you could go anywhere, real or imagined, where would it be and why?
Since I love sci-fi romance books and I've written a few myself, I would love to go into outer space to get a close–up look at the earth and stars. Amazingly, they say space tourism will kick-off within the next decade. Unfortunately, with a price tag in the millions, space will have to wait until I win the lottery.
Q ~ Are you a dog person, a cat person, or does some other critter strike your fancy?
Dog, I'm pack leader to three of them, LOL.
Q ~ How do you feel about self-publishing?
I haven't ruled it out for the future. For now, I'll stick with Extasy Books. They're very good to their authors.
Q ~ Do you have a favourite author? Do they influence your writing?
That's a difficult one. There are too many to list. I do know that every good book I read enriches me and illustrates that there are no boundaries to the number of fictional lives that can be lived.
Q ~ What's the best thing that's happened since you began writing? The worst?
The best was receiving my first fan letter. The worst was opening my first rejection letter.
Q ~ Do you have a personal support system? Who are your biggest supporters in life and in your endeavours?
My hubby and family are totally supportive of my scribblings, and my best friend, Sandy, is my beta reader.
Q ~ Do you have any writing rituals that you follow? What is your go-to snack while writing?
For personal and household reasons, I operate best in the early morning. And I spend a great deal of time staring out the window while I work through scenes in my mind. I wish I could say my go to snack was something healthy, but it's not, it's homemade brownies. Yum!
Q ~ When you write, do you try to reach a specific word count or simply write until you are done?
I don't try for a specific word count, unless I'm on deadline, but when I do have a whole day to myself, I might work for twelve to fifteen hours until the ideas dry up, then I'm done.
Q ~ Can you tell us a little bit about your latest release Romancing The Guardian and what inspired you to write it?
As much as I love writing sci-fi romance, I thought it was time for a change, which led to the Shifters and Lovers series, set in the present day.
Romancing The Guardian
, is book # 2 of the series and features Rick Cantrell and Jordan Riker. Rick is an up and coming actor with a stalker on his trail, and Jordan is a lion shifter hired to protect Cantrell. While there is instant chemistry between the men, Rick is still not out and must consider his options carefully. That is, if the stalker doesn't get him first.
Q ~ What was the most difficult part of the process while writing Romancing The Guardian?
Since it's an MM romance, it was difficult to tutor myself to think like a man.
Q ~ What is your favourite part or scene in the novel?
I think the desert scene, where Rick and Jordan are especially romantic with each other.
Q ~ When you write, do you lay out a solid outline before beginning, or start writing and iron out the kinks later?
Since I'm a pantser, I write out a rough outline, let the story lead me and tweak it during final edits.
Q ~ Do you have a favourite character in the novel? Is this person based on someone, or multiple someone's, in your life?
My characters are usually a composite of people I've known. I like Rick a lot because he's an unassuming guy, despite his fame and money. Then again, Jordon rang my bell because I'm a sucker for a sexy geek.
Q ~ Of the works you've written, which is your favourite? Is there also a character that holds a special place in your heart?
Okay, I'll admit I do have a special spot in my heart for
Huntress At Large
. I loved the Lexine character and hunky hero, Blane Sabastian.
Q ~ Do you have anything in the works at the moment? Care to give us a hint about it?
Biker's Run
(book # 3 of the Shifters and Lovers series) is now under contract and will be out early in 2016, hopefully January.
http://aliatwood.com/coming-soon/
After that, comes
Alex
( book # 1 of the Urban Wizards trilogy). The story is still in the rough draft stage, but I can tell I'm going to have fun with it.
Q ~ If you could give aspiring authors one piece of advice, what would it be?
I would tell them to write every day, even if you only have ten minutes to spare, and definitely do not let rejection discourage you. Keep writing, keep improving and keep submitting your manuscripts.
Thank you for hosting me, Jonel.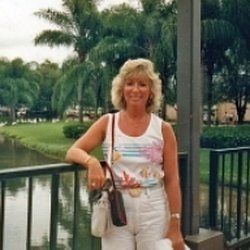 About this author:
Ali Atwood is a transplanted Brit, living the outdoor life in Florida. Her previous careers could fill a catalogue—everything from flight attendant to ice cream parlor owner. Since Ali has traveled over much of the world, she draws from that knowledge to create unique characters and backdrops. Aside from writing, Ali enjoys horseback riding and golf. She has eclectic taste in music, a fondness for French champagne and a slight obsession with social media.
Ali welcomes comments from readers and answers emails as soon as she can.
Title:
Romancing the Guardian
Series:
Shifters and Lovers #2
Author:
Ali Atwood
Publication Date:
September 8/15 by eXtasy Publishing
Length:
79pgs
Genre:
paranormal romance
Shelf:
review
Rating: ★★★★★
Back Cover Blurb:
Rick Cantrell is an up and coming actor, who's been featured in the top ten of the sexiest men's polls. He also has a stalker on his trail.
Jordan Riker is a lion shifter with a difficult past. He quit his pride due to his controlling father's demands, and he was burned by his boyfriend shortly after. Now, he's a newbie bodyguard, assigned to protect the seriously hot, Rick Cantrell. Though Jordan is immediately drawn to the charismatic actor and recognizes the connection between them, he resists Cantrell's sexual advances to uphold his professional standards and guard his heart from further hurt.
Rick Cantrell is a never-take-no-for-an-answer kind of guy. Despite his bodyguard's best efforts to push him away, Rick thinks he may have the man of his dreams in Jordan Riker.
My Review:
Atwood once again brings her world of shifter bodyguards to life. I loved the vividness with which this novella was written. Everything was slightly larger than life without being over the top. I enjoyed the vivid descriptions that brought the world and the action surrounding the characters to life. This novella was well written and edited. Atwood brings forward her intimate yet very enticing story with a definite flair.
Atwood`s straightforward and captivating portrayal of acting behind the scenes really drew me to the characters. Getting a real sense of what they`re going through made it easy to identify with and feel for the. The natural banter between the main characters was also very appealing. I felt like I was actually there with them. I also found myself growing close to the characters. I love the feeling when they become part of your life rather than simply names on paper, and Atwood definitely does it with this one.
For something quick, hot, and still in depth, Atwood is definitely my go-to author.
Book Links
Before you leave!
Be sure to enter this fantastic giveaway for 3 pdf copies of Ali Atwood`s latest release, Romancing the Guardian.
Contest is open internationally, where applicable by law.
Entries close at 11:59pm November 27/15.
Winners will be drawn November 28/15.
Winners will be notified via email to the email provided to the giveaway and will have 72h to claim their prize or another winner will be drawn.