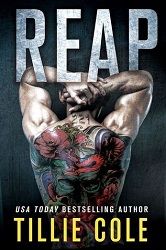 Title:
Reap
Series:
Scarred Souls #2
Author:
Tillie Cole
Publication Date:
November 10/15 by St. Martin's Griffin
Length:
260pgs
Genre:
contemporary romance
Shelf:
review
Rating: ★★★★
Back Cover Blurb:
Raised as a prototype for the Georgian Bratva's obedience drug, 221 fails to think, act or live for himself; his master's perfectly-crafted killing puppet. Standing at six foot six, weighing two-hundred and fifty pounds, and unrivaled in to-the-death combat, 221 successfully secures business for, the Georgian Mafiya Boss of NYC, in the dark world of the criminal underground. Until his enemies capture him.
Talia Tolstaia dreams to break from the heavy clutches of Bratva life. She dreams of another life-away from the stifling leash of her Russian Bratva Boss father and from the brutality of her work at The Dungeon--her criminal family's underground death match enterprise. But when she stumbles upon her family's captive who is more monster than man, she starts she starts to see the man underneath. A powerful, beautiful, damaged man whose heart calls to hers.
But sacrifices must be made--blood for blood... life for life... Souls for scarred souls...
My Review:
This novel was wildly vivid and intensely real. The plot is in your face throughout. The implications behind the premise are shocking and just plain frightening in the possibilities they open up. Cole's descriptions create snapshots into the main characters and their lives. The characters are engaging. Their lives and actions create a raw & real feeling throughout the novel that really conveyed the intensity of the tale as a whole to me throughout.
I'll admit that I haven't read the first novel in the series yet and it didn't detract from my enjoyment of this one. That said, I'll definitely be going back to read it as I enjoyed this one so much. I can't stop thinking about the world that Cole has created.
Book Links