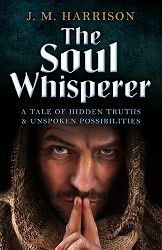 Q ~ Can you tell us a bit about yourself?
I'm an award winning and Amazon #1 author who writes to inspire, challenge and motivate people into opening their hearts and minds. I began to write following a mystical death experience in 2007.
Q ~ If you could have lunch with one person, dead, alive, or imaginary, who would it be and why?
The 19th century English author Charles Dickens. One of my favourite writers whose powerful characters and storylines caught the imagination of people worldover.
Q ~ What is your favourite electronic gadget?
The old reliable laptop. Couldn't get by without it!
Q ~ How do you think people perceive authors?
From the conditioning of their own minds!
Q ~ What is your favorite quote, by whom, and why?
"If you tell the truth, you don't have to remember anything." Mark Twain. The quote is simple yet wisdom to live by which returns great benefits.
Q ~ Ebooks, paperbacks, or hardcovers?
Paperbacks, as they've got a soul. You can have a personal relationship with a paperback, it becomes part of you and you become part of it. The touch, the feel, the memories.
Q ~ What is your favourite genre to read? To write?
To read it's most types of spirituality, to write it's visionary fiction like my new novel THE SOUL WHISPERER. The fiction genre allows creative freedom, and encourages individual expression. There are no limits unless you believe that there are!
Q ~ Do you have a favourite author? Do they influence your writing?
I don't have a favourite author, but enjoy any book which is the clear result of hard work and passion.
Q ~ How did you begin writing? Was there a single catalyst or a series of events?
Yes, I had a mystical death experience in 2007. I fell to the floor and became separated from my body. I saw that I was not simply the human form I inhabit, but more. We are all souls with a divine spark, and not so different as we imagine.
Q ~ Do you have a personal support system? Who are your biggest supporters in life and in your endeavours?
Apart from my family, I would say it is my undiminished realization that we are individuals with a universal bond. My experiences have taught me there is far more to life than we are taught or can comprehend.
Q ~ When you write, do you lay out a solid outline before beginning, or start writing and iron out the kinks later?
I use inspiration and intuition. Realizing not to force the words, but allowing them to appear when you are in the flow supports creativity and authenticity.THE SOUL WHISPERER was written intuitively, and the outline came together in a couple of days while on holiday in France. I used the environment, the places I visited and the experiences to help me forge a story. In that way, I simply followed what opened up, and the book presented itself. Creative writing is not so much about you, but how and what you share.
Q ~ Do you have any writing rituals that you follow? What is your go-to snack while writing?
Coffee, music and looking out the window at nature. Love a bit of chocolate, but sometimes have to resort to raw carrots!
Q ~ Can you tell us a little bit about your upcoming release The Soul Whisperer and what inspired you to write it?
In September 2013 I travelled to France and stayed in a lovely little 'gite' (cottage) hidden away in the heart of the Languedoc countryside. The French department of the Hérault is inspiring, covered in stunning steep rock formations and crystalline rivers - a place where the cleansing perfumed scent of wild herbs carried on the warm breeze is never far away.
As I unwound and relaxed, I was overcome by a sense of needing to write, which was in no way planned, and genuinely unexpected. But I followed the deep sense, purchasing a decent pen and a couple of notebooks. I sat on the picnic bench of the sunny terrace and began to scribble, and within a couple of days, I'd filled the two notebooks. I brought all the local places into the story, and everything that happened became part of the spiritual fantasy I was writing. Journeys and visits came alive in the story, as did people and places, fitting together like a real life jigsaw puzzle.
The stunning setting of Saint-Guilhem-le-Désert became the ideal backdrop. A truly magical village, a charming sun-kissed square filled with ancient houses made of golden amber stone. The village is surrounded by tall, overhanging rock faces, as if they're protecting its secret history. The impressive but somewhat daunting Abbey, the 'Devil's' bridge standing tall over the gorge, the dramatic caves of Clamouse… I was entranced. A trip to Limoux enabled me to gather French names from the cemetery, and on the side of the road there, I sang an intuited chant, recording it with my Dictaphone… it all seemed to be part of the blossoming story.
I returned to the UK feeling fulfilled, and returned to work as usual. A few months later, an unexpected debacle at work led to many changes, including my departure. It was a difficult few months for all concerned. In the depths of not knowing what to do, I returned to my book. I started transcribing the notes from the two exercise books onto the laptop. Once I'd written the storyline, I contacted a few people, including a mainstream publisher. Each person responded positively, which gave me the encouragement I needed to spend the next 9 months working solidly on the manuscript.
Q ~ What is your favourite part or scene in the novel?
I think the final scene in the abbey. I don't want to give it away, but I think that people will be touched and moved by the heartfelt words.
Q ~ What is your process for choosing character names?
Well, as I mentioned, for THE SOUL WHISPERER I went to a cemetery to find French names. I know it sounds a bit morbid, but it's a rich environment! You can let your imagination run wild.
Q ~ Do you have a favourite character in the novel? Is this person based on someone, or multiple someones, in your life?
My favourite character is Jean-Michel. He's based on many people, yet no one in particular. I like to take qualities I notice in people in real life and apply them to the fictional characters. In that way, you don't become limited, and you remain free to create.
Q ~ Do you have anything in the works at the moment? Care to give us a hint about it?
I am working on a series of autobiographical works entitled THE MYSTIC CHRONICLES.
Q ~ If you could give aspiring authors one piece of advice, what would it be?
Be yourself - tell the story in your own words. It's the story and characters (not your IQ) that readers are really interested in.
http://nakedbeing.blogspot.co.uk/
About the author:
J.M. Harrison is a British born Award Winning and Amazon#1 Author. His field of interest includes spirituality, consciousness and the soul. He began writing following a mystical death experience in 2007. Jonathan's non-fiction titles to date include: We Are All One, Naked Being, YOU are THIS and a novel of Visionary Fiction entitledThe Soul Whisperer. He has taught alongside Barbara Marx-Hubbard, Marci Shimoff, Dr Bruce Lipton and others, as well as taking part in numerous media interviews in both Europe and the US.
www.AuthorJMHarrison.com
Following personal tragedies and spiralling financial problems, Londoners Alex and Sara are desperate to find ways to rediscover their zest for life. A free holiday provides the perfect opportunity for a second chance, but not long after arriving in France they discover that all is not what it seems... A series of shocking revelations challenge their understanding of humanity, as they are propelled into a dangerous world governed by a ruthless occult society. Magical relics and extra-terrestrial objects promise to unlock incredible secrets, but what extremes will people go to in order to attain them? In a modern-day spiritual quest, Alex and Sara will be forced to take control of their destiny, facing their own demons along the way as time counts down, for them and the entire human race…
Check out this giveaway for The Soul Whisperer on Goodreads.
And available exclusively to Pure Jonel followers,
head over to YouTube to watch the trailer for
The Soul Whisperer.
Everyone who comments will be entered in author J.M. Harrison's draw for a paperback copy of the novel
.
Be sure you comment on YouTube to be entered.
The video can be found here.