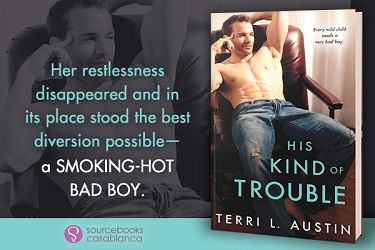 Adventures of a Bad Boy With Callum Hughes from HIS KIND OF TROUBLE
Hello there, my name is Callum Hughes. Though originally from the UK, I spent my life kicking around the globe, seeing new places and falling in love along the way. Mostly with vintage European sports cars, though trust me, women didn't escape my notice. Have you ever been to Rio during Carnival? Quite an experience, to say the least. The ladies, the parties…well, decadent is one word for it.
Anyway, I've developed something of a reputation as a car restoration expert, but really, I just love bringing these works of art back to their former automotive glory. I take pride in my work, but I find it hard to stay in one place for long. Unless I'm obsessing over something like a '54 Alfa Romeo B.A.T., I enjoy traveling. A lot.
But now that I'm back in Vegas, I'm finding it rather difficult to leave. Mainly because Monica Campbell lives here. I met her once before, years ago. She looked like an angel and kissed like a sinner. Who wouldn't love that combination? But when we met up again, she was quite altered, different in every way, at least on the outside. Nevertheless, I could sense undercurrents of something uninhibited buried deep inside her, yearning to get out. Those stodgy suits and tamed curls don't fit her at all. She's a sex kitten, pure and simple. Therefore, it's my goal—no, myduty—to tempt her out of this drab shell she's donned like a shield, and encourage her to reform to her wild ways.
Every time we're together, there's a deep sexual tension bubbling between us. And when we touch—well, it sounds stupid—but it's electric and a bit overwhelming. When she's in the room, I don't notice anything, anyone except her. Believe me, I know I sound like a tosser right now, but I can't help it. Only she does this to me. If it weren't so exciting, I'd be quite vexed. I like living my life with no strings, no attachments. The woman entices me to put aside my wandering ways, or at least take her with me on my jaunts through Europe and South America.
As for Monica, she likes to pretend she doesn't notice me, but she gives herself away every time. She can hardly keep her eyes off me, and the way she stares at my tattoo, as though she wants to examine it further, feel it with her fingertips—I must admit, I find it charming. But she keeps fighting this mutual attraction. However, that doesn't prevent her from sneaking away with me for a quick snog in a supply closet. No, she likes it when I kiss her, when I tempt her. Until she remembers she's supposed to be a saint. I'm doing my utmost to help her forget all that.
Yet it's when I talk about my travels that Monica becomes quiet and serious. Then she bombards me with questions about Italy and Spain and Thailand. She's curious and clever and meant for bigger things than hiding behind a good girl persona. My goal is to make her realize that for herself. If she wants the world, I'll give it to her. How can I possibly say no to the very complicated, beautiful Monica Campbell?
A Q&A With Callum
Do you consider yourself an adrenaline junkie?
~I suppose I must be. I love fast cars—working on them, driving them. I get a bit of a buzz out of it.
What's the most exciting adventure you have ever experienced?
~Paragliding over Mont Blanc. Terrifying and thrilling all at once.
What is the wildest party you have ever thrown?
~I don't throw parties. I attend them. No damages and no fuss. That's the way I live my life.
Has there ever been a woman who has been able to compete with your bachelor lifestyle for your attention?
~Only one. Monica Campbell. She's beautiful and smart and exasperating. I'll take her over paragliding any day. People think they have her figured out, but they haven't even scratched the surface. There's certainly more to her than meets the eye. I have a bloody good time tempting her into behaving badly, I can tell you that much.
As a girl, Terri L. Austin thought she'd outgrow dreaming up stories and creating imaginary friends. Instead, she's made a career of it. Now she writes steamy contemporary romance and mysteries. She met her own Prince Charming and together they live in Independence, Missouri.
Title:
His Kind of Trouble
Series:
Beauty & the Brit #2
Author:
Terri L. Austin
Publication Date:
November 3/15 by Sourcebooks Casablanca
Length:
416pgs
Genre:
contemporary romance
Shelf:
review
Rating: ★★★★
Back Cover Blurb:
Monica Campbell may have a history as a wild child, but she's changed her ways. She's responsible, and most importantly, she's sworn off bad boys. That is, until filthy rich Cal Hughes shows up with his sexy British accent and killer smile.
Cal remembers every steamy moment he shared with Monica years ago, but he barely recognizes the straight-laced woman she has become. Determined to lure her into dropping the prim and proper act, Cal uses every trick he knows to remind her of who she used to be back when she was his.
My Review:
An entertaining story with captivating characters and realistic dialogue, what more could you ask for? Emotions run high throughout a myriad of familial disasters and relationship dips and turns. She melds emotions with comedy in a manner that creates a believable story and intriguing escape from reality.
The dynamic between the two main characters really made this story for me. His over the top persona combined with her healing created a couple that I won't soon forget. I found both easy to connect with and to be the type of people who really drew me into their story. The cast that surrounded them was quite entertaining and made the story even more real.
Austin has created a story that brings real life to readers in a manner that allows you to experience it and to escape from your own reality for a little while.
Book Links
Enter to win in this tour wide giveaway!