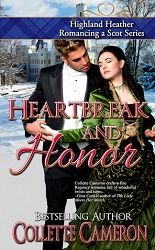 Title:
Heartbreak and Honor
Series:
Highland Heather Romancing a Scot #3
Author:
Collette Cameron
Publication Date:
December 2/15 by Soul Mate Publishing
Length:
257
Genre:
historical/regency romance
Shelf:
review
Rating: ★★★★
Back Cover Blurb:
Abducted by a band of renegade Scots, Highland gypsy Tasara Faas blackens her rescuer's eye when the charming duke attempts to steal a kiss. Afterward, Tasara learns she's the long-lost heiress Alexandra Atterberry and is expected to take her place among the elite society she's always disdained.
Lucan, the Duke of Harcourt, promised his gravely ill mother he'd procure a wife by Christmastide, but intrigued by the feisty lass he saved in Scotland, he finds the haut ton ladies lacking. Spying Alexa at a London ball, he impulsively decides to make the knife-wielding gypsy his bride despite her aversion to him and her determination to return to the Highlands.
The adversary responsible for Alexa's disappearance as a toddler still covets her fortune and joins forces with Harcourt's arch nemesis. Amidst a series of suspicious misfortunes, Lucan endeavors to win Alexa's love and expose the conspirators but only succeeds in reaffirming Alexa's belief that she is inadequate to become his duchess.
My Review:
Cameron makes the regency period fun to read about. She keeps with the times yet throws in a twist of her own via the actions and reactions of her characters. I love how this tale remains true to the time period while also being exciting & unique. The story goes from comical to heartbreaking, exciting to romantic. Cameron's vivid storytelling brings it all to life in a big yet realistic way.
I enjoyed the extremes that we find in the characters. The varied personalities of the characters gave a community feel to the story while also making sure that there was someone for everyone to love. It was a whole lot of fun to get to know them all. The main characters definitely stand out in this story. The differences in their lives and the concerns that they have humanize them while seeing them come together makes them a couple that I simply fell in love with.
Once again Cameron has created a wildly romantic tale with a twist. This is a novel that I'd highly recommend to all those who enjoy a good regency romance.
Book Links