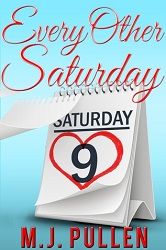 Title:
Every Other Saturday
Author:
M.J. Pullen
Publication Date:
August 4/15 by Flourish Publications
Length:
323pgs
Genre:
romantic comedy
Shelf:
review
Rating: ★★★★★
Back Cover Blurb:
From romantic comedy author M.J. Pullen comes a unique story about finding help when you need it most, and love where you expect it least.
Even though their daughters have been in the same Jewish preschool class for three years, struggling store owner Julia Mendel and sports blogger Dave "from the Man Cave" Bernstein have never gotten along. She sees him as a definitely arrogant, possibly misogynist symbol of everything that's wrong with the men in her life. He sees her as the odd, short-tempered PTA president, out to make his life more difficult at every opportunity.
As part of his job, Dave accepts an on-air challenge: go out with a different woman from a Jewish dating site every Saturday for the next four months, and blog the results. He quickly secures his daughter's favorite preschool teacher (and super-nanny) Ms. Elizabeth to make the experiment possible. Little does he know Julia is in desperate need of the same sitter for the same schedule, so that she can take a part-time job while pacifying her son, who has severe OCD.
A confrontation in the carpool lane leads to an uneasy compromise: they will pool their resources to share Ms. Elizabeth's services every-other Saturday night. After a while, Dave finds himself sharing his dating stories with non-Jewish Julia across her kitchen table; while she reluctantly turns to him for the masculine perspective – especially for her son – she's been missing since her divorce. As the Saturdays wear on, however, they may discover they have more in common than car seats and custody schedules.
My Review:
I love Pullen's writing! She melds romance with comedy and places them smack dab in the middle of real life to create a story that is absolutely unforgettable. She develops her scenes in a manner that is easy to picture and truly enriches her characters. The narrative is gripping and the descriptions heightened my enjoyment of the story.
I really liked getting to know the main characters in this story. She brings forward the trials of their lives in a light-hearted and fun manner, while also bringing emotions forward. At the same time, I found that I really got to know them personally. Pullen created a heady mix that made me feel as if I were part of the characters' lives.
This novel was fun, funny, and enlightening. What more can you ask for?
Book Links