The Joys of True Gentlemanliness… by Grace Burrowes
About twenty books ago, I lamented (whined) to one of my brothers that coming up with ways to challenge a romance hero into facing his worst fears and risking all to win the heroine's heart was taxing my imagination. My brother, without a heartbeat's pause said, "Make him choose between the competing demands of honor."
THAT was great advice. Make the hero choose between the woman who needs him, and the military unit depending on him. Make him choose between avenging injustices from his past, or respecting the wishes of the pacifist woman he loves. Make him decide whether to be publicly vindicated or privately forgiving… Delightful stuff, for an author!
And yet, to travel along these brilliant character arcs, our hero must have one characteristic: He must have a well-developed sense of honor. To me, that means this fellow must be honest and kind. He can be poor, grouchy, lacking in charm, without prospects, unlucky in love—Daniel Banks is nodding his head—but ideally, he will still be a true gentleman at heart.
The true gentleman, alas for him, can be tormented from page one by the author and by the story, but from the start, the true gentleman will play by the rules of decency.
Rules are tough. The true gentleman will never misrepresent himself, which means Daniel Banks must inform Lady Kirsten that a) he's married, and b) he won't disrespect his vows. Too bad for Daniel, this honesty only raises him in the lady's esteem, when he's trying to emphasize his unsuitability.
The true gentleman will lend a hand—or an ear—to those in need. When Daniel Banks realizes that Lady Kirsten has been overlooked by her entire family, and is as lonely as an earl's daughter can be, the least he can do is listen when she explains the misery in her past. Again, his respect for, and understanding of her increases, but what else could a gentleman have done?
The true gentleman is kind. He does not ignore the suffering of others, even if that means, he's left with a bigger helping of suffering on his own plate. When Lady Kirsten needs a champion to fight her battles with an overbearing brother, Daniel steps up, though it might cost him his position. Once again, Daniel's decency only gets him in hotter water, because now Kirsten's brother is also viewing the impecunious, reserved, sometimes grouchy, vicar with renewed respect.
This business of being a true gentleman is darned hard, and darned heroic. What Daniel has to learn, though, is that true gentlemanliness begins at home. When he's honest with himself, and shows himself the compassion we all deserve, all the inconvenient rules, tough choices, and honorable standards turn out to have been his second-best friends.
Lady Kirsten is, of course, his very best friend, being a true lady. But that's another story…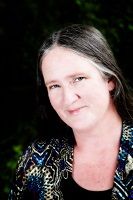 About the author:
New York Times
and
USA Today
bestselling author Grace Burrowes' bestsellers include
The Heir, The Soldier, Lady Maggie's Secret Scandal, Lady Sophie's Christmas Wish
and
Lady Eve's Indiscretion
. Her Regency romances have received extensive praise, including starred reviews from
Publishers Weekly
and Booklist. Grace is branching out into short stories and Scotland-set Victorian romance with Sourcebooks. She is a practicing family law attorney and lives in rural Maryland.
Social Media Links
Title:
Daniel's True Desire
Series:
True Gentlemen #2
Author:
Grace Burrowes
Publication Date:
November 3/15 by Sourcebooks Casablanca
Length:
416pgs
Genre:
historical romance
Shelf:
review
Rating: ★★★★
Back Cover Blurb:
Daniel Banks is a man of the cloth whose vocation is the last comfort he has left–and even his churchman's collar is beginning to feel like a noose. In an attempt to start his life over, Daniel accepts the post of vicar in Haddondale, a position supported by the Earl of Haddonfield. There Daniel meets Lady Kirsten Haddonfield, to whom life has also dealt multiple unkind blows. Daniel's interest is piqued by Kirsten's unsentimental attitude toward her misfortunes, and by the kind-heartedness the lady keeps well hidden. Kirsten is much taken with Mr. Banks and his genuine compassion for others, despite his own troubles. When Providence intervenes, and Daniel and Kirsten can become engaged, their happiness seems complete…. though every garden has at least one nasty, sly, determined serpent.
My Review:
What a wonderfully complex tale. Burrowes weaves class distinctions with different ways of life. She shows what is expected of her characters, yet at the same time allows them to make their own choices. The mix is so very real and realistic. The dynamic between the main characters is complexly rewarding. The obstacles that Burrowes places in their road not only strengthen their relationship, but also allowed me to get to know them on many levels. It also created some very unique plot twists that took the story from good to great.
Once again Burrowes has created a wonderfully romantic tale that is both original and easily takes readers back in time in a memorable way. (And yes, the word of the day when it comes to this novel seems to be 'wonderful', and it definitely fits)
Book Links
Be sure to enter this fantastic tour wide giveaway!