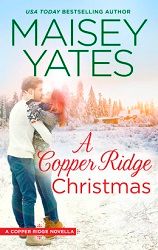 Title:
A Copper Ridge Christmas
Series:
Copper Ridge #4
Author:
Maisey Yates
Publication Date:
November 1/15 by HQN Books
Length:
91pgs
Genre:
contemporary romance
Shelf:
Netgalley
Rating: ★★★★
Back Cover Blurb:
Snow is falling in Copper Ridge, Oregon—but the heat between a holiday-loving party planner and the town's resident Scrooge is off the charts in this sweet and sizzling Christmas novella...
Holly Fulton is throwing a special Christmas Eve party for the foster parents who gave her so much. To finish the preparations in time, she needs to recruit her one-time foster brother, Ryan Masters. He may have a scowl that could curdle eggnog, but under that surly demeanor is a big heart. And amazing muscles. And a gorgeous chest. In fact, X-rated visions of Ryan have been dancing in Holly's head for years, but she can't risk complicating the only real family she's ever known.
But maybe there's a way for Holly to have her Christmas cake and eat it too. A no-strings affair, just until they're done with the planning. Ryan is certainly willing. But from the first touch, it's clear that this isn't just a festive fling. It might just be a Christmas miracle in the making...
My Review:
Yates shows readers another side of Copper Ridge with this Christmas novella. At the same time, she shows how relationships aren't easy. They take work, but are worth the reward. Through this all, Yates brings Copper Ridge to life in a vivid way, giving readers access to the lives of her characters.
I liked the character development in the past and present, as well as how past perceptions tie into today's actions and reactions. It gave me a complete and complex view of the main characters without detracting from the forward motion of this novella.
Yates is one of those rare authors who can make me cry and leave me with a warm, fuzzy feeling at the same time. She definitely does that with this Copper Ridge Christmas novella.
Book Links