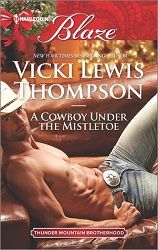 Title:
A Cowboy Under the Mistletoe
Series:
Thunder Mountain Brotherhood #4
Author:
Vicki Lewis Thompson
Publication Date:
November 17/15 by Harlequin (December 1/15 for ebook)
Length:
240pgs
Genre:
contemporary romance
Shelf:
Netgalley
Rating: ★★★★
Back Cover Blurb:
The gun-shy cowboy…
A cowboy's scars can last a lifetime. Ty Slater's cheerfulness is a carefully constructed armor. After losing his parents in a tragic accident, he was fostered at Thunder Mountain Ranch. Although he's learned how to survive, he hides a broken heart. He knows love leads to loss, so he's vowed never to fall in love…
Unfortunately, Ty's attraction to Whitney Yates is nothing short of a maelstrom, a desire that threatens his resolve. When she's stranded at Thunder Mountain for Christmas, Ty realizes he'd better find Whitney's flaw, and fast—because his lust is too damn close to love. This red-hot cowboy is ready to bolt…unless Whitney shows him that some rides are definitely worth the risk.
My Review:
Thompson is one of those authors who can transport you to the locale of her story through her words. The intricate, picturesque descriptions painted this world for me, allowing me easy access to the unforgettable story that she's created. The plot was both emotional and romantically infused. The number of different subjects that intertwined throughout made for a complex and multifaceted tale that had me engaged on multiple fronts.
Ty's past comes back to haunt in in many ways during this novel. As he got closer to Whitney throughout I got to know him as he was, is, and wants to be. I loved the many facets of character development that Thompson went into with him. Getting to know Whitney was also a treat. Her beliefs and fears combine with her desires in remarkable ways. I also enjoyed how the final chapter gives readers a sneak peek as to who we get to get up close and personal with in the next novel of the series. Not only did it give me a bit more insight into a character that I'd been hearing about through this novel, but it's got me counting down the days for the next in the series.
As with all the novels in the Thunder Mountain Brotherhood series, this novel is fun, funny, romantic and emotionally hard hitting. Thompson wraps it all up in an exciting and entertaining package that is fantastic for all lovers of modern western romances.
Book Links