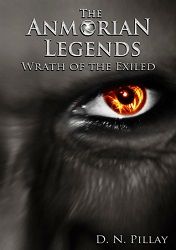 Title:
The Anmorian Legends: Wrath of the Exiled
Author:
D.N. Pillay
Publication Date:
June 4/15 by the Invictus Group (1st published November 1/14)
Length:
490pgs
Genre:
SciFi/Fantasy
Shelf:
review
Rating: ★★★
Back Cover Blurb:
His world long since shattered following the invasion of his home planet, Rezaaran Valhara is abandoned by fate to slavery. However, his fortunes take an unexpected turn when he is offered a chance to join the Intergalactic Revolution of Independent Systems in the ongoing war against the Obsidian Dominion.
Initially consumed by anger and doubts, plagued by the memories of his parents' murder and a desire for vengeance, Rezaaran suppresses these demons in the pursuit of a purer purpose to restore peace as he becomes the last War-Mage of the fabled Vokarii.
On a quest spanning the galaxy Rezaaran begins to unravel the secrets of the four realms of Anmor and his destiny in an ancient battle.Yet his greatest challenge will be within. Will he find the strength to walk the path of a hero?
My Review:
Pillay takes a well-known fantasy theme and transforms it into a SciFi adventure. The plot that he creates was definitely one of a kind. The story had a great deal of detail, creating a whole that has the potential to stand out. His descriptions bring not only this world, but many worlds to life. Everything was very easy to picture throughout.
I found the characters a bit all over the board. The main characters were well developed and at times quite fun to get to know. There were also a variety of personality types throughout the supporting cast. Some of the female characters reminded me more of a 'Bond Girl' than active, important characters in the story.
Pillay's novel & plot were wildly original and had a great deal of potential, but I simply couldn't get into it fully. That said, it was an enjoyable read that brought forth some very intriguing points.
Book Links