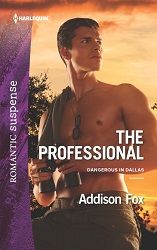 Love Lessons I Learned From THE PROFESSIONAL by Addison Fox
Thanks so much for having me today on the blog!
I've been a lifelong reader of romance and love writing in the genre. The topic of love is always fascinating, always unique and always fun. And I also find, with every book I write, that there's something to be learned from my characters (and yes, while they're made up in my head they are very, very real!)
In writing my October release, THE PROFESSIONAL, I was struck by the journey of my hero and heroine, Max Baldwin and Violet Richardson. The two have an incredible chemistry, which we've seen build over the two prior books about Violet's business partners, but it's only when Violet is kidnapped by the nameless villain stalking them all that Max's true feelings come out.
Max isn't an easy guy. He keeps to himself, is somewhat grumpy and has an inviolable code of honor and ethics. But when Violet's life is on the line, there's nothing he won't do to save her.
For her part, Violet's not all that easy a person herself. She's incredibly driven as part owner of a wedding business and while she's ready to believe in love for her friends and her clients, she's not all that convinced it's right for her.
Oh my, my, my…this is where MY job gets fun!!
Not only did I have fun, but I learned quite a lot from Max and Violet. In no particular order…
Attraction's easy, together is hard
While base attraction is a rush to the blood, choosing to commit to someone takes a lot of courage, heart and effort. We all have our quirks and we all do things that make our loved ones crazy. Commitment requires a willingness to see past that and, while not necessarily overlook it, come to accept those things in your partner that make you a little nuts.
A hard outer shell doesn't mean there isn't a delicious gooey caramel center
Max and Violet are tough souls, forged in personal experiences that color their views of the world. Max, in particular, epitomizes the gruff, rough-and-tumble personality that can often scare others away. He's a gentle soul and would never physically hurt anyone, but his tart tongue does do a bit of damage from time to time. It's only when Violet looks past some of the grumbling that she realizes there's someone incredibly special underneath.
Exploring a relationship is hard when you already have friends who've coupled up
Violet is the owner of a wedding business with her two best friends, Cassidy and Lilah. Cassidy and Max's best friend and business partner, Tucker, have recently gotten together (SILKEN THREATS) and Lilah has fallen for the cop who's assigned to their case (TEMPTING TARGET) and who has become quick friends with Max. While Cassidy and Lilah had a bit of breathing room falling for their own guys, Violet's got a ready audience who can't wait to see her fall in love with Max. Being open to love is hard enough, but the stakes are even higher when you've suddenly got an audience.
Waiting can have its merits
Max and Violet have known each other for about a year. They are both business owners in Dallas's Design District and sit on a local board. They have then watched their friends fall for each other. That's an awfully long time for smoldering chemistry to sit and, well…smolder.
When Max and Violet do get together, there's no question in either of their minds (or ours!!) that they want each other. And because they've waited, they have had the time to get to know each other. It only makes that full fall into love that much sweeter.
It's always amazing to me how much my characters teach me. Part of the fun of writing all different types of personalities is how they illustrate why we all deserve love, affection and our own special someone.
Thanks so much for joining me today!
XO,
Addison
About the author:
Despite early ambitions of being a diver, a drummer or a doctor, Addison Fox happily discovered she was more suited to life as a writer. She lives in Dallas and - thankfully - doesn't have to operate on anyone. You can find her at her home on the web at
www.addisonfox.com
. Her latest book, THE PROFESSIONAL, will be out in October from Harlequin Romantic Suspense. You can visit her at her website at
www.addisonfox.com
Praise for Addison Fox:
"Fox's latest is charming, with clearly defined characters and natural, organic dialogue." –
RT Book Reviews
"With just the right amount of twists and turns, Ms. Fox manages to keep the reader glued to the page." –
Amazon Reviewer
"I was impressed by my first Addison Fox read. The characters were all so well-developed and I'm anxious to go back and read more about them." –
Book Pushers
"Fox has provided us with an Adult Contemporary novel that was both enjoyable and well written." –
Barnes & Noble Review
"Addison Fox definitely lets her vivid imaginings turn into a story filled with danger and many surprises." –
Amazon Reviewer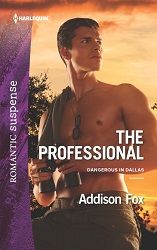 Title:
The Professional
Series:
Dangerous in Dallas #3
Author:
Addison Fox
Publication Date: Length:
288pgs
Genre:
romantic suspense
Shelf:
review
Rating: ★★★★
Back Cover Blurb:
Despite her job as a wedding planner, Violet Richardson doesn't believe a happy-ever-after is in her future. And when she's kidnapped by a killer, she's surprised that rescue comes in the form of her tempting yet irritating neighbor, Max Baldwin.
Trying to forget his dark past, Max never meant to take on his attractive neighbor's troubles. But now the bickering pair must outrun a thug who's determined to get his hands on mysterious jewels he thinks are in Violet's possession. As they race for their lives through Dallas's summer heat, Max and Violet may finally open their eyes to the burning passion they share.
My Review:
This novel had a rather novel premise. The continuation of the story from the previous novel in the series combines with the specific plot of this one to create a fast paced read. Fox develops suspense from cover to cover, keeping readers on their toes throughout. Although this is a very enjoyable novel in and of itself, I would suggest reading the series in order for the full effect.
I really enjoyed getting to know the characters as they came to grips with who they've become. It was an intriguing perspective on the relationship. It also gave a log of insight into who each of the two really are. I also enjoyed the melding of conflict with passion, showing how they really are flip sides of the same coin.
This well written novel had me wrapped up in its suspense while also becoming invested in the relationship between the main characters. It was a fun read that I thoroughly enjoyed.
Book Links