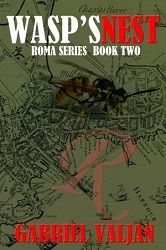 Title:
Wasp's nest
Series:
Roma #2
Author:
Gabriel Valjan
Publication Date:
November 23/12 by Winter Goose Publishing
Length:
276pgs
Genre:
mystery
Shelf:
review
Rating: ★★★★

Back Cover Blurb:
In the highly anticipated sequel to Roma, Underground, Bianca returns to the U.S. for her former employer, the covert organization Rendition, to investigate Cyril Sargent and Nasonia Pharmaceutical. Although ambivalent about the assignment and uneasy about her online "friend," Loki, she is enticed into researching what Sargent is doing with insect genetics that might upset the world of cancer research and treatment. Old friends Farrugia and Gennaro uncover a twisted conspiracy from their past and join Bianca in Boston where they will experience conflicted loyalties, question allies, and confront uncertain enemies, as they're drawn into the wasp's nest.
My Review:
What a fantastic sequel to ROMA, UNDERGROUND! Once again, Valjan has created a suspenseful novel that had me trying to unravel the intricate storyline as the characters lived it. The world of his characters continues to grow in a well-developed & unforgettable world. I loved the scientific aspects of the novel. For me, the upped the intrigue and thought factors. The mix of reality and fiction made it easy to picture myself in it. I thoroughly enjoyed how he continues to build on the world, characters, and events of the first novel of the series, while also writing in such a manner that readers could read this as a standalone.
This was a wonderfully suspenseful and intriguing novel. I'm thoroughly enjoying this author's writing and can't wait to see what he comes up with next.
Book Links