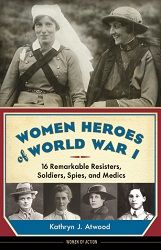 Title:
Women Heroes of World War I
Author:
Kathryn J. Atwood
Publication Date:
June 1/14 by Chicago Review Press
Length:
256pgs
Genre:
non-fiction
Shelf:
review
Rating: ★★★★
Back Cover Blurb:
A commemoration of brave yet largely forgotten women who served in the First World War
In time for the 2014 centennial of the start of the Great War, this book brings to life the brave and often surprising exploits of 16 fascinating women from around the world who served their countries at a time when most of them didn't even have the right to vote.
Readers meet 17-year-old Frenchwoman Emilienne Moreau, who assisted the Allies as a guide and set up a first-aid post in her home to attend to the wounded; Russian peasant Maria Bochkareva, who joined the Imperial Russian Army by securing the personal permission of Tsar Nicholas II, was twice wounded in battle and decorated for bravery, and created and led the all-women combat unit the "Women's Battalion of Death" on the Eastern Front; and American journalist Madeleine Zabriskie Doty, who risked her life to travel twice to Germany during the war in order to report back the truth, whatever the cost. These and other suspense-filled stories of brave girls and women are told through the use of engaging narrative, dialogue, direct quotes, and document and diary excerpts to lend authenticity and immediacy.
Introductory material opens each section to provide solid historical context, and each profile includes informative sidebars and "Learn More" lists of relevant books and websites, making this a fabulous resource for students, teachers, parents, libraries, and homeschoolers.
My Review:
What an intriguing and well written look at the lives of women during WWI. Atwood selects the stories of 16 women to showcase the strength and trials of those who chose the difficult path at a time when it was even more difficult.
I found the stories well written, really allowing me to focus on the individual stories. Atwood tells the tales in a way that really highlighted each character in a different way. I appreciated how the tales were told accurately, yet with a flair that made them fun to read. They were developed in such a manner that highlighted not only the lives of the individuals in question, but of the war in general.
Together, these stories create a fun, informative, and enjoyable look at the impact of women during WWI. It's a read that I'd definitely recommend to those who like taking a look at history.
Book Links
Title:
Women Heroes of World War II
Author:
Kathryn J. Atwood
Publication Date:
March 1/11 by Chicago Review Press
Length:
272pgs
Genre:
non-fiction
Shelf:
review
Rating: ★★★★
Back Cover Blurb:
Noor Inayat Khan was the first female radio operator sent into occupied France and transferred crucial messages. Johtje Vos, a Dutch housewife, hid Jews in her home and repeatedly outsmarted the Gestapo. Law student Hannie Schaft became involved in the most dangerous resistance work--sabotage, weapons transference, and assassinations. In these pages, young readers will meet these and many other similarly courageous women and girls who risked their lives to help defeat the Nazis.
Twenty-six engaging and suspense-filled stories unfold from across Germany, Poland, the Netherlands, France, Belgium, Denmark, Great Britain, and the United States, providing an inspiring reminder of women and girls' refusal to sit on the sidelines around the world and throughout history.
An overview of World War II and summaries of each country's entrance and involvement in the war provide a framework for better understanding each woman's unique circumstances, and resources for further learning follow each profile.
Women Heroes of World War II
is an invaluable addition to any student's or history buff's bookshelf.
My Review:
With WOMEN HEROES OF WORLD WAR II Atwood returns to look at the lives of women during war time. This well written novel highlights not only the risks taken, but what each of the individuals gave and gained through their actions. I appreciate the way that Atwood makes history palpable to the masses without taking literary liberties or dumming down her subject matter.
I definitely enjoyed reading about these fantastic women and their contributions throughout the war. The sense of everyday individuals working towards something so much bigger than themselves served to remind me just how big the world really is.
Book Links