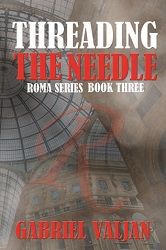 Title:
Threading the Needle
Series:
Roma #3
Author:
Gabriel Valjan
Publication Date:
August 7/13 by Winter Goose Publishing
Length:
366pgs
Genre:
mystery
Shelf:
review
Rating: ★★★★

Back Cover Blurb:
Milan, Italy. Bianca's curiosity gets a young university student murdered, but not before he gives her a file that details a secret weapon under development with defense contractor Adastra. Guilt may drive her to find justice for the slain Charlie Brooks, but she is warned by the mysterious Loki to stay away from this case that runs deep with conspiracy. Bianca must find a way to uncover government secrets and corporate alliances without returning Italy to one of its darkest hours, the decades of daily terrorism known as the "Years of Lead."
My Review:
I enjoyed the fact that Valjan puts his crime mystery into the broader perspective, bringing all of Europe into play, albeit sometimes in small ways, rather than staying focussed on an imaginary small town. I found that this heightened the suspense factor for me.
Valjan has created some strong characters who carry the story forward. Their intensity allows them to shine, never being overpowered by the multifaceted plot. I appreciated how they were intellectually developed. I felt as if I could have an actual conversation with them, rather than just being names on paper.
This novel was a thought provoking addition to Valjan's Roma series. I wouldn't hesitate to recommend it to those who enjoy the genre.
Book Links