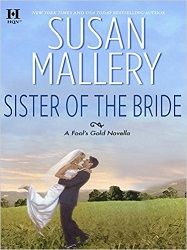 Title:
Sister of the Bride
Series:
Fool's Gold #2.5
Author:
Susan Mallery
Publication Date:
July 27/10 by HQN Books
Length:
77pgs
Genre:
contemporary romance
Shelf:
own
Rating: ★★★★
Back Cover Blurb:
When Katie McCormick finds out that her sister is marrying her ex, she finally agrees to a setup for the big day. To her surprise, Jackson is a catch. But when wedding catastrophe ensues, will their sparks fizzle or ignite into flames?
My Review:
Short and sweet. Perfect for an afternoon in the sun or an evening with a glass of wine.
Mallery returns readers to Fool's Gold with a hot & fast paced romance that oozes emotion and realism. She draws readers into her tale, allowing them to experience it alongside the readers. Mixing comedy with the difficulties of being the only single female at a family wedding, Mallery created a fantastic tale that I could not only relate to, but that I could barely put down.
The sister in this story was perfect in her self-centred annoyingness. She was a definite counterpoint to the caring nature of our heroine. She also served to highlight the goodness & hero qualities of the male lead. As easily as Jackson and Katie could have held their own in a full length novel, their whirlwind romance was perfect for this novella. The dynamic between the two was off the charts.
Sometimes a novella is just the thing. Mallery has definitely proven that with this one.
Book Links