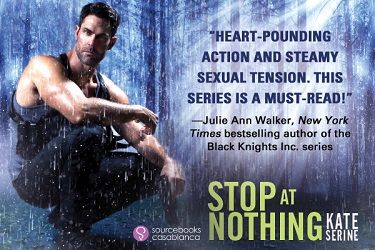 This November Kate SeRine releases the first in her riveting new romantic suspense series,
Stop at Nothing
. To celebrate, the hero of Stop at Nothing, FBI Agent Kyle Dawson, has agreed to answer a quick Q&A for us!
What is one thing that readers might not know about you?
I have a serious addiction to Peanut M&Ms. I keep 'em stashed everywhere. I limit myself to a handful now and then on most days. But when I'm working a tough case, all bets are off.
About the author:
Kate SeRine writes award-winning romantic suspense and paranormal romance. A past recipient of an Emily Award and the National Readers Choice Award, she has also been a finalist in the Fire and Ice Contest, Finally a Bride Contest, and the Gayle Wilson Award of Excellence. She lives with her husband and two sons outside Indianapolis, Indiana. Connect with Kate at
www.kateserine.com
.
Title:
Stop at Nothing
Series:
Protect & Serve #1
Author:
Kate SeRine
Publication Date:
November 3/15 by Sourcebooks Casablanca
Length:
352pgs
Genre:
romantic suspense
Shelf: review
Rating: ★★★

Back Cover Blurb:
When a high-profile investigation goes wrong, FBI Agent Kyle Dawson is transferred back home where he is forced to confront his demons...and the only woman he ever loved. Three years ago, Kyle and Abby Morrow shared a wild, passionate summer-then Abby broke his heart.
Now she needs his help
Kyle never stopped loving Abby. So when Abby uncovers evidence of a human-trafficking ring, leading to her sister's kidnapping, he swears he'll stop at nothing to bring her sister home and keep Abby safe. Caught in a lethal game of cat and mouse and blindsided by their own explosive desires, they must set aside the past before it's too late.
Excerpt:
Sweetheart.
Abby suppressed a shudder as that one word speared straight through the heart. When Kyle Dawson had suddenly appeared in the doorway of her sister's living room, she'd thought she was hallucinating. But there he was, coming to her when she most desperately longed for him, his black brows drawn together in a frown, the already angular planes of his face even harsher in his distress.
Kyle ducked down a little so he was at eye level with her, those intense sapphire blue eyes showing the depth of his concern as he searched her gaze. "Abby?"
"I interrupted the intruder," she explained, her gaze flitting briefly toward the Sheriff, who'd looked skeptical from the start and was giving her the stink-eye even now. She cleared her throat a couple of times, before adding, "We scuffled. He got away."
Kyle nodded, his eyes narrowed. "Was that before or after he cut the power to the house and managed to get by the alarm system?"
She should've known Kyle would see through her story. He seemed to have almost a sixth sense when it came to crime scenes. But the photo of Emma bound and gagged suddenly came to mind, her concern for Emma's safety preventing Abby from confiding in Kyle.
"Clearly, he'd done his homework and had been casing the place, watching for an opportunity to break in when the family was out of town," she said.
That at least wasn't a lie. The guy had been prepared. He'd known exactly what he was doing. And she'd hazard a guess that he'd also known Curtis was out of town and that Abby and Tyler were there alone.
Speaking of Curtis… Where the hell was he anyway?
Kyle gave her a knowing look. "Abby—"
"I'm sure Mac and the boys can handle it," she interrupted, inwardly cringing, knowing that the reference to his father was a low blow. But it had the desired effect.
"You heard the young lady," Sheriff Dawson interjected. "Gentlemen"—he motioned to Gabe and Tom—"please escort Agent Dawson from the premises."
Gabe took a step forward to obey his father's order, but Tom put a restraining hand on his arm and shook his head.
"You look like you could use a little air," Kyle said, gently but firmly taking hold of Abby's elbow and leading her toward the doorway. She glanced over her shoulder at Tyler, reluctant to leave him after what they'd been through, but she saw Joe sitting beside him, chatting quietly to put the boy at ease.
Still, as great as it was to see Kyle, she wasn't exactly eager to be alone with him again. Silence had a way of opening the door to some really uncomfortable questions that she wasn't exactly ready to answer. That didn't even include the total bullshit she was feeding everyone about what had really happened.
"Excuse me, Agent, but I have some additional questions for my deputy," Mac said, his tone even in spite of the anger that flashed in his eyes. "And I would thank you not to interfere with my investigation, young man."
Kyle lifted his free arm to his side and bent slightly at the waist, offering his father a mocking bow. "Wouldn't dream of interfering, Sheriff."
Before his father could offer another word, Kyle ushered Abby from the room and out the front door. Abby's heart began to race as he led her farther into the growing darkness beyond the headlights and flashing blue-and-reds on the various vehicles.
Once they were out of earshot of any of the other officers, Kyle finally released her and turned to face her, hands on his hips. "Spill it. And don't give me any bullshit about interrupting a robbery. I could hear some of what was going on. I know he was after something you have—or he thinks you have."
Abby turned her head away, staring into the darkness crowding in along the dense tree line that bordered the property. "I don't know what you're talking about. I told you what happened."
Kyle grasped her chin and forced her gaze back to his. "Abby, it's me. You could always talk to me. Let me help you."
My Review:
SeRine enters her world of law enforcers with a sense of flash and flair. Her descriptions bring this world to life, giving readers a peek into the lives of her characters. The writing was solid and the narrative was full of suspense.
The different aspects of the novel didn't always mesh together well for me. There seemed to be a distance between what should and what is happening. Yet it didn't detract much from the I'll admit there were a few times that the novel read like a later book in the series, rather than the first. SeRine leaves issues to be expanded on at a later date that would have better built the world if they were clearer now.
The characters in this novel were quite well developed. I found I got to know each of them on many levels. The hero of this story was easy to like. He wanted & needed to succeed. At the same time, he was real and full of spunk. I also really enjoyed getting to know Abby. She was fun & funny. The secondary characters rounded out the novel well, playing their parts while also becoming well liked individuals. I appreciate the way that SeRine sets many of them up to play larger roles in later novels in the series. The characters definitely kept this novel in the realm of awesome for me.
This was a good introduction to SeRine's new series. I enjoyed the world that she's created and am looking forward to seeing what comes next.
Book Links