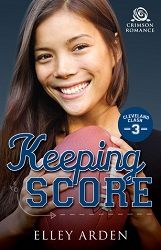 Title:
Keeping Score
Series:
The Cleveland Clash #3
Author:
Elley Arden
Publication Date:
October 19/15 by Elley Arden
Length:
196p
Genre:
contemporary romance
Shelf:
review
Rating: ★★★★★
Back Cover Blurb:
Cleveland Clash center Jade Wren longs for something more than teaching elementary school and marrying a nice Korean guy. Maybe that's why she suddenly kisses a sexy stranger at a bar. Except the guy turns out to be sports radio shock jock Rome Rizzelli, and as far as her team is concerned, he's Public Enemy No. 1.
Rome isn't the kind of guy to argue when a beautiful woman kisses him, but now his producer has invited Jade to talk about women's pro football on his show. It's a battle of the sexes—a battle he needs to win to save his job and continue to support his disabled mother and younger sister. But the sexy center is no pushover, and Rome can't decide whether that's a turn-on or a reason to fight even harder.
When the gloves—among other things—come off, can two strong personalities who have found security in keeping up appearances let down their guards long enough to fall in love?
My Review:
What do you want? Shouldn't be a hard question, right? But what happens if you have expectations and responsibilities heaped on you? What happens to a relationship if that's the status quo on both sides? Throw in sports, work, & off the charts chemistry and you have one heck of a story.
Arden has definitely taken her women's football team to the next level with this fantastic conclusion to the series. The Cleveland Clash just peeks getting better and better with every novel! Not only does Arden bring women's pro-sports to the forefront of this novel in a very unique and unmistakable way but she also brings forward everyday life and a wildly captivating budding romance. Her well written narrative allows the characters to shine as their stories become more and more vivid throughout. This is one novel I definitely couldn't put down.
Arden easily shows how gender roles don't need to be reversed for women to be self-sustaining and tough. I love the mix of tough football player and soft woman that we see in Jade. She is the complete package while also trying to live up to cultural and familial obligations. The contrast between Rome the family man, & Rome the sports broadcaster made for quite the intriguing character there as well. His familial situation adds yet another layer to this complex character who definitely grabbed my heart (and all of my attention while he was at it).
This novel was fun, funny, wildly romantic, and sports oriented. What more can you ask for?
Book Links