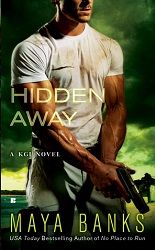 Title:
Hidden Away
Series:
KGI #3
Author:
Maya Banks
Publication Date:
March 1/11 by Berkley Sensation
Length:
486pgs
Genre:
romantic suspense
Shelf:
own
Rating: ★★★★
Back Cover Blurb:
A man who shoots first and asks questions later…
Most people would take an all-expenses-paid trip to the beach in a heartbeat. Garrett Kelly only accepts to keep tabs on Sarah Daniels, who's in hiding after witnessing a murder by Marcus Lattimer, her half-brother—and a personal enemy of KGI. This gig may be beneath a disciplined soldier like Garrett, but if he gets a shot at Lattimer, it will all be worth it…
…and the ultimate moving target.
But Garrett hadn't counted on falling for Sarah. He'd considered seduction as a tactical maneuver, but when he glimpses Sarah's dark past, he feels an urgent desire to keep her safe—even after she disappears on him. Garrett doesn't know exactly who, or what, Sarah's running from, but whatever it is, she's running for her life…
My Review:
Banks returns readers to the world of the KGI with just the right mix of sweet and spice. Suspense runs high as the characters travel throughout Central and North America. Banks' descriptions bring each new locale to life so that I could easily picture them. The story seemed so real to me throughout. The action packed sequences were interspersed with heartfelt moments and family drama keeping me on my toes.
Garrett's personality had me from the get-go. He was so strong and appeared fearless, yet his world was completely rocked by Sarah. Sarah's need to protect those she cared about, regardless of her own fear tugged at my heart. Together, these two were a fantastic pair who easily carried the story forward. I also appreciated the fact that the Kellys made a strong appearance in the tale. This family is so tight knit, and yet they each have their own lives to deal with. The Rio/Steele dynamic brought the entire KGI crew into the story in a bigger way for me. I enjoyed seeing the interaction and tension between the two teams, yet their ability to also work together.
This novel is formulaic in as much as boy meets girl, boy (eventually) gets girl, but from their Banks makes it all her own. It was a fun addition to the series and also a fantastic read in and of itself.
Book Links