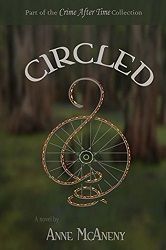 Celebrate Halloween with a Mask or Two by Anne McAneny
Masks aren't unique to Halloween. We all don them occasionally. A friendly hello at the grocery store when we're feeling anything but. A declaration that we couldn't possibly relate to the violent movie we just saw when at some point, we thought, "Hm, I wonder if I could be driven to such rage." Masks allow us to survive; we put them on for short times, take them off when we're done. But at this time of year, when scary masks abound, it makes me wonder about those who masquerade year-round, 24/7. When they lift their veils, the real fright comes along.
Okay, the truth is, I think about those people a lot! I'm Anne McAneny and I write mysteries. I love to put masks on my characters. The best part, however, comes in the tearing-off of the disguise for The Big Reveal—that moment when the reader says, "No way!" (and hopefully not, "Yawn, I saw that coming.") A well-structured story is the biggest challenge in writing a mystery because real life and fictional tales unfold precisely opposite of each other.
In real life, we have Ted Bundys, where the reveal comes first:
A man you've never heard of has just been arrested for dozens of murders
. The story then reveals itself in retrospect. In Bundy's case, a pleasant, mild-mannered man is shown to be a relentless, sadistic serial killer. The story and clues arrive after the identification of the villain, where coworkers say what a nice man Ted was—and where even crime writer Ann Rule never suspected while working beside him at a suicide hotline! As time passes, though, whispers gain strength: "I always thought he seemed phony," or, "He was the product of incest, you know." Soon enough, we all wonder how we didn't know from the moment of his birth that Ted Bundy was a raving sociopath.
In a good mystery book, the hints are laid out subtly, leading to a logical conclusion, but hopefully, the hints themselves are masked such that readers skim right over them. The writer's task is to achieve a state of balance where a reader looks back and says, "Oh, yes, how did I miss that?" while still feeling delighted to have been surprised by the ending. It's a dizzying challenge that requires writers to occasionally visit dark places, perhaps taking a peek behind some of their own masks.
Between concealment of villains and cleverly disguised clues—and with goblins and monsters ready to knock on your door—Halloween really is the perfect night to celebrate a well-crafted mystery. So tonight, I raise a glass of warm cider in your honor and hope you find one that surprises you . . . Boo!
For many years, Anne sharpened her writing skills on screenplays that often became contest finalists. Today, she lives in Virginia with her husband and children, along with a puggle and a formerly stray cat that sneaked into the basement years ago. She enjoys biking, hiking, and all manner of activity, as long as it's balanced by chocolate and Belgian beer--or a tasty combination thereof. She loves to hear from readers, so please connect with her on her Facebook Fan Page (
Books by Anne McAneny
) or on Twitter (@AnneMcAneny).
Anne is excited to announce that she's just added a fourth mystery-thriller, CIRCLED, to her Crime After Time Collection, which already includes RAVELED, SKEWED, and FORETELLER. The collection revolves around everyday people who feel compelled to investigate past crimes against their loved ones. Their discoveries rewrite the past and reshape the future in exciting, twist-filled plots. All three original Crime After Time books have become Amazon Bestsellers.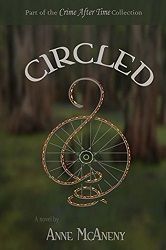 A fire ignites a whirlwind of action and accusation in a swamp town that hasn't seen excitement since the big lottery win twelve years ago. Little does reporter Chloe Keyes know that when she sniffs around for clues, she'll end up facing her own demons while unsettling the very foundation of her hometown.
Chloe starts her day by pulling a gun on two intruders—and things only go downhill from there. Driving to Boyd's General for her daily caffeine fix, she finds the place ablaze. When the flames die down, she uncovers evidence that points to a dire fate for her missing childhood friend, Hoop. He disappeared twelve years ago, on the same day his girlfriend was struck and killed by a car. The events have left a dark mark on Chloe.
Over the next two days, strange occurrences pile up: Chloe's neighbor is found floating and bloated in Black Swamp; the head of a cosmetics conglomerate is arrested by federal agents; phone records point to a dead girl making calls; and a handsome stranger mystifies everyone he encounters. Through it all, the promise of a spectacular magic show captivates the local residents.
Close calls with gators, crossbows, and armed felons lead to a startling conclusion, complete with illusion, chicanery, and the most divisive trick of all: cold, hard truth. Will Chloe's murky existence finally be clarified, or will she succumb to the demons that haunt her?
And now, enter to win in this fantastic giveaway with Anne McAneny & Circled.
3 Amazon copies of Circled will be gifted to winners directly from the author
Contest is open internationally, where applicable by law.
Entries close at 11:59pm November 6/15.
Winners will be drawn November 7/15.
Winners will be notified via email to the email provided to the giveaway and will have 72h to claim their prize or another winner will be drawn.