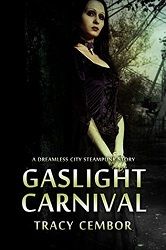 Title:
Gaslight Carnival
Series:
A Dreamless City Steampunk Story
Author:
Tracy Cembor
Publication Date:
August 11/15
Length:
89pgs
Genre:
steampunk
Shelf:
review
Rating: ★★★
Back Cover Blurb:
Margo Crestley is an alchemist mixing elixirs in the Dreamless City without a license. When the district crime lord threatens blackmail, Margo pins her hopes on someone she has not seen in four years -- her twin brother Leonard.
Sold to the traveling Gaslight Carnival by the twins' father, Leonard is treated like property. Margo scrimps and saves to buy his freedom, but the Ringmaster is unwilling to let him go. The young alchemist can only win her brother back if she participates in the capricious Ringmaster's cruel games.
Time is running out. The crime lord's threats are turning violent, and the Gaslight Carnival will soon be gone. The giant glowing balloons and striped carnival tents are set up for three days only before disappearing for another year along with the daredevil stunts, the freak show, and the rigged games of chance. Can Margo save her twin brother in time, or will she be left alone to face the crime lord herself?
My Review:
Cembor embraces the steampunk style and genre with a flair. She brings the world to life in a vibrant manner through her larger than life descriptions. At the same time, there is a dark undercurrent to the tale attached to Margo's plight. The characters were well developed and filled their roles well. I appreciated how they filled the tale with not only the plot, but with their lives. There were a few rough patches in the writing that jogged me out of the story, but all in all this was a fun, enjoyable read.
This was an interesting and imaginative debut story from Cembor. I'm quite intrigued to see where her writing goes from here.
Book Links