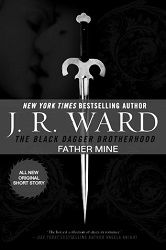 Title:
Father Mine
Series:
Black Dagger Brotherhood #6.5
Author:
J.R. Ward
Publication Date:
October 7/08 by NAL
Length:
91pgs
Genre:
paranormal romance
Shelf:
own
Rating: ★★★★
Back Cover Blurb:
Readers met and fell in love with Zsadist and Bella in J. R. Ward's third New York Times bestselling novel in the Black Dagger Brotherhood series, Lover Awakened.
As a former blood slave, Zsadist bore the scars from a past filled with suffering and degradation until Bella came along and helped heal his emotional wounds. Now, though, with the birth of their child, the demons of his past have been resurrected, called forth by the innocent eyes of his beloved daughter, Nalla. Unless Bella and Nalla can bring him back with their love, he may be lost to them forever.
My Review:
This novella was short, sweet, and to the point. Ward returns readers to the world of the BDB with the same in your face writing that we've come to know and love from her while also giving readers a chance to revisit one of my favourite couples and get to know them on a much more personal level. I quite enjoyed this quick divergence from the usual action packed, gritty lives of the men of the BDB. Seeing Z in the home setting, dealing with the aftermath of his life while caught up in the current circumstances he finds himself in was eye opening. Bella's side of the equation was equally intriguingly developed.
On its own this was an ok story, but as part of the series it was fantastic. Ward filled in a great deal about the relationship between Bella and Z while also further developing Z as an individual, both in the past and the present. I loved this jaunt back into their relationship that gave me a much fuller picture of this couple and where they stand now.
Book Links