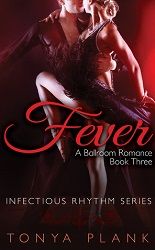 Title:
Fever
Series:
A Ballroom Romance #3
Author:
Tonya Plank
Publication Date:
June 10/15 by Dark Swan Press
Length:
326pgs
Genre:
contemporary romance
Shelf:
review
Rating: ★★★★
Back Cover Blurb:
Sasha and Rory are working superbly well together, their fiery passions for each other blazing both on and off the dance floor as they compete at Blackpool, the world's most prestigious ballroom championship. But Rory suspects Sasha's jealous former partner and his student are conspiring to sabotage them. And her increasing fears that Sasha's mysterious past, which has so intrigued and captivated her, holds something sinister, become a life-threatening reality.
This is part three in a continuing three-book series.
My Review:
Plank kicks up the heat and plot twists in this conclusion to her Ballroom Romance series. Competitions become real, as do the trials surrounding them. There were times I felt as if I'd truly entered the competition alongside the characters. I enjoyed the way that Plank developed them, allowing me to picture the various aspects while also enjoying the everyday lives of the characters that we meet.
The development of the main characters in the series reaches a crescendo with this novel. Not only are they becoming well rounded individuals, but their relationship with one another has become something quite intriguing to see.
As a whole this was a quite enjoyable finale to Plank's series. The character development continued throughout while life in the realm of ballroom dancing became very real for me.
Book Links