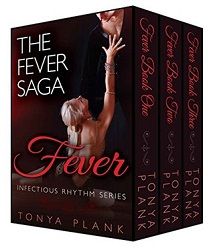 Title:
Fever
Series:
A Ballroom Romance Box Set
Author:
Tonya Plank
Publication Date:
July 19/15 by Dark Swan Press
Length:
760pgs
Genre:
contemporary romance
Shelf:
review
Rating: ★★★★
Back Cover Blurb:
Rory's ballet career was destroyed by family tragedy and illness. Now, at the start of her law career, she finds herself unfulfilled and uncomfortable in her skin. But when she meets tantalizing, mysterious Russian ballroom dancer, Sasha, her passions for life and dance are immediately rekindled.
Since leaving his Siberian family as a small child, Sasha's lifelong dream has been to become world Latin ballroom champion. He's nearly there, but can't seem to make it to first place. He hasn't yet found the right partner. He instantly recognizes Rory's talent and falls hard for her, in more ways than one. But she also reminds him of great pain from his past.
Sasha must convince Rory to leave her law career, and all that she has worked for in her adult life, to train full time for competition. They must both conquer deep-seated traumas and battle jealous and vengeful former partners who try to sabotage them, along with life-threatening demons from their pasts, in order for their partnership – both on and off the dance floor – to survive.
My Review:
I enjoyed the realism of the story. Plank creates a well-placed world gives readers a real sense of what is happening around them. At times I really felt immersed in the world of dance. The difference between the different styles of dance was paramount to the tale. She develops both the sensuality and the technicality of ballroom dancing. At the same time, she tackles some more in depth and intricate subjects, adding more complexity to the tale. Her smooth narrative makes for an enjoyable read as her descriptions heighten the tale, taking it from real to vivid.
I really enjoyed getting a deeper look at the individuals that we met in the first novel. I really felt for Rory throughout, even if I didn't always agree with her actions. This dichotomy had me wanting to get to know her even better. I didn't feel as if I could connect with them enough to fully immerse myself in the story. The variety of personality types did give a sense of community throughout, and made for some interesting interpersonal relationships.
As a whole this was a quite enjoyable series. The character development continued throughout while life in the realm of ballroom dancing became very real for me. I appreciated the way in which she developed the world in which her characters live. But I will warn readers, this is a series that definitely should be read in order for full impact.
Book Links