Title:
Moonstruck Madness
Series:
Dominik Trilogy #1
Author:
Laurie McBain
Publication Date:
January 1/77
Length:
371pgs
Genre:
historical romance
Shelf:
own
Rating: ★★★
Back Cover Blurb:
She's one thing by day, something else altogether by night...
After escaping the slaughter of her clan at a young age, Scottish noblewoman Sabrina Verrick provides for her siblings by living a double life, until the night she encounters the Duke, and her secret and all she holds dear is threatened...
He's so disillusioned, he's completely vulnerable...
With his inheritance at stake, Lucien, Duke of Camareigh, sets a trap for the Scottish beauty with the piercing violet eyes, never imagining what will happen when the trap is sprung...
As their lives become irreversibly entangled, Lucien and Sabrina become each other's biggest threat, as well as their only salvation...
My Review:
What an imaginative story, that is simultaneously well set in history. I enjoyed how well set this novel was. McBain set the scene well, transporting her readers back in time before taking them on an adventurous ride. I also enjoyed the characters that McBain filled this novel with. They were unique without stepping completely out genre. I enjoyed seeing them morph throughout the story, becoming more what we'd expect, without ever loosing who they were.
McBain mixes history with romance, passion with the realities of the lives the author found themselves in with a flair that held my attention. This is definitely a novel that will stand the test of time.
Book Links
Title:
Chance the Winds of Fortune
Series:
Dominik #2
Author:
Laurie McBain
Publication Date:
October 6/15 by Sourcebooks Casablanca (1st published January 1/80)
Length:
512pgs
Genre:
historical romance
Shelf:
review
Rating: ★★★★
Back Cover Blurb:
Rhea blinked in disbelief. "What an insufferable man you are. And whether you are, as you would have me believe, a marquis, or whether you are a tinker, I would still find you the rudest, most vulgar individual I have ever had the misfortune to encounter."

"Well done, my dear. I am impressed by this splendid show of ladylike disdain, feigned though it be, but well done nonetheless. But the light of truth has revealed you in my cabin. Now, how do you explain yourself out of that?"
Lady Rhea Claire, kidnapped and shipped to the Colonies as an indentured servant, manages with wits and courage to escape...straight into the arms of a ruthless English pirate.
For all his worldly ways, Dante Leighton, Marquis of Jacqobi and captain of the Sea Dragon, never expected to discover his redemption and his greatest treasure within the amethyst eyes of a beautiful English refugee.
My Review:
Once again McBain takes readers back in time for a one of a kind romance with adventure and context. I love how the novel is written in what is now considered the 'old' style of romance. The best parts of the story are in the details. This is an epic read that is well worth the time.
I loved getting to know the characters in this novel. They were so intricately developed and stood out amongst the sea of characters in the genre. Their antics and relationships made them so real. The distinctive personalities create a sea of people for readers to fall for. Dante & Rhea are definitely a couple that I won't forget.
As a whole, this was a seamless, enjoyable novel that I had a hard time putting down. McBain has definitely crafted a winning novel with this one.
Book Links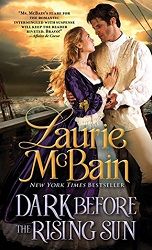 Title:
Dark Before The Rising Sun
Series:
Dominik #3
Author:
Laurie McBain
Publication Date:
October 6/15 by Sourcebooks Casablanca (1st published 1982)
Length:
512pgs
Genre:
historical romance
Shelf:
review
Rating: ★★★★
Back Cover Blurb:
"Now you can see how easily an ill-spoken word can cast doubt on or even destroy the feelings we thought inviolate," Dante warned her. "Never let anyone turn you against me, Rhea. Promise me that."
Newly-wed, Lady Rhea Claire and Dante Leighton must return to England, where their reception is anything but warm.
Now armed with wealth and power, Dante is a target for the murderous smugglers who despoiled his family home, while Rhea's father, the powerful Duke of Camareigh, vehemently rejects their marriage.
The two lovers thought themselves invincible together. But in the riveting conclusion of McBain's epic trilogy, Dante's determination to reclaim his family seat and Rhea's desperation to win over her father threaten to cause an insurmountable rift that could break them apart forever.
My Review:
Welcome back to the wonderful world that McBain has created with her Dominik trilogy. Her vivid descriptions painted this world before my eyes. I enjoyed how McBain picks up right where she left off in the previous novel and runs with it. This fast paced story was full of romance and action.
I love McBain's writing style. It's so eloquent and detailed. Her way with words is entertaining, highlighting the action and adventure throughout the story. It also brings her characters' emotions to the forefront of the story. Dante's insecurities shine through as the characters find themselves caught in a whirlwind of adventure and suspense.
This novel is the perfect ending to McBains trilogy. It is definitely a story that will stand the test of time.
Book Links
Amazon.com
-
Amazon.ca
-
B&N
About the author:
Laurie McBain became a publishing phenomenon at age twenty-six with her first historical romance. She is a winner of the RT Reviewers' Choice Award for Best Historical Romance Author. All of her romances were bestsellers, selling over 11 million copies. Laurie's books have been out of print for over 5 years.
Be sure to enter this tour wide giveaway!