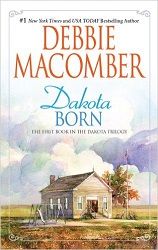 Title:
Dakota Born
Series:
Dakota #1
Author:
Debbie Macomber
Publication Date:
April 1/99 by Mira Books
Length:
378pgs
Genre:
contemporary romance
Shelf:
own
Rating: ★★★★
Back Cover Blurb:
Buffalo Valley, North Dakota. Like so many small towns, it's dying. Stores are boarded up, sidewalks cracked, houses wanting a coat of paint. But despite it all, there's a spirit of hope here, of defiance. The few people still left in Buffalo Valley are fighting for their town.
Lindsay Snyder is a newcomer. She's an outsider, even though she spent childhood vacations here. Now she returns to see the family house again, to explore family secrets and to reevaluate her life.
To her own amazement she decides to stay. Her decision marks a new beginning for Buffalo Valley—and for Lindsay Snyder, who discovers in this broken little town the love and purpose she's been seeking.
My Review:
Macomber always intrigues me with her emotional and realistic look at the lives of small town characters. DAKOTA BORN was no exception. She breathes life into this town that she`s created. I felt as if I were able to walk the street alongside the characters. All the while, she develops a story with intertwining plotlines, none outshining the others, but with one definitely taking centre stage.
The Gage/Lindsay dynamic was riveting. Their interactions were so real. The way that Macomber develops it, so that you experience both sides, gave me the full picture of their relationship while also allowing you to get to know them as individuals. Their strong personalities really drew me in. I love how intricate these characters are, without ever feeling like you`re in information overload. At the same time, Macomber goes so much further with her characters than just these two. The entire town comes to life in a big way. Joanie and Brandon broke my heart. Getting to know many of the other budding couples was fun as well.
This was a cute, fun small town romance with lots of heart. Macomber melds emotion with real life in a way like no other, creating a world that definitely puts her in the running for the queen of the quill.
Book Links