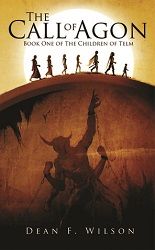 Title:
The Call of Agon
Series:
The Children of Telm #1
Author:
Dean F. Wilson
Publication Date:
February 19/13 by Dioscuri Press
Length:
384pgs
Genre:
fantasy
Shelf:
review
Rating: ★★★★★
Back Cover Blurb:
THE LAST LINE. THE LAST WORDS. THE LAST CHANCE.
Ifferon is one of the last in the bloodline of the dead god Telm, who mated with mortal women, and who imprisoned the Beast Agon in the Underworld. Armed with a connection to the estranged gods in the Overworld and a scroll bearing Telm's powerful dying words, he is tasked with ensuring the god's vital legacy: that Agon remain vanquished.
Fear forces Ifferon to abandon his duty, but terror restores his quest when the forces of Agon find his hideaway in an isolated coastal monastery. Weighed down by the worries of the world, but lifted up by the companions he encounters along the way, Ifferon embarks on a journey that encompasses the struggles of many peoples, the siege of many lands, and discoveries that could bring hope to some—or doom to all.
My Review:
Wilson embraces fantasy with a flair all of his own. The intricate world building brings forward the land and many religions within it. I loved the visual and textual differences between the different regions of this world. Wilson's descriptions and world building didn't stop at the visual. His world building was all encompassing. It was a fantastic experience, really enhancing the plot for me. The twists that Wilson worked into the intricate story kept me on my toes and had me hooked to the pages of this novel. The different cultures really shone throughout. I enjoyed the multicultural feel to the story, and the way that they all banded together towards a common goal.
There's a sense of urgency throughout the novel. The characters were pushing forward on their quest and I found myself drawn into the story with it. I also got to know the motley crew of characters who banded together in the quest that Wilson sets them on. The myriad of danger that they faced not only helped me get to know them on many levels while also pulling me deeper and deeper into their world. Surrounding these individuals Wilson creates vivid, if at times dark, creatures through his writing. The presence of the many different types of creatures made the world even more vivid.
I loved meeting the peoples and travelling to distant lands through Wilson's writing. His polished writing shone throughout this epic fantasy that I couldn't put down. I loved each moment of it, from world building to character development to unforgettable plot. This is definitely a must read for all those who enjoy fantasy.
Book Links