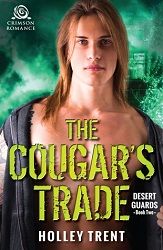 Title:
The Cougar's Trade
Series:
Desert Guards #2
Author:
Holley Trent
Publication Date:
September 14/12 by Crimson Romance
Length:
242pgs
Genre:
paranormal romance
Shelf:
review
Rating: ★★★★★
Back Cover Blurb:
After a month as a "guest" of the Foye gang, quiet nurse Miles Bennett is itching to be able to leave their isolated ranch. But were-cougar second-in-command Hank Foye wants to take her as his mate. If she doesn't agree to accept him, he'll be cursed to spend the rest of his life on four paws. With no family waiting for her back home, Miles decides to stick around—Hank is cute, and staying in town means she'll get to stay with her friends.
Hank expected to be paired with Miles's brash friend Hannah, not meek and mundane Miles. But his goddess says this is his one and only chance for a mate, even if Miles is a liability in a world where shifters fight to lead and roam. Now he not only has to attend to Cougar affairs but play bodyguard, too.
Surprisingly, the sweet young woman brings his long-repressed passions roaring to life. She deserves to be loved unconditionally, but he sees her as the embodiment of everything he can't have. Can he get his house in order to lead a group of restless Cougars and earn his mate's trust?
My Review:
This novel is endlessly emotionally gripping. I couldn't put it down for a second. At the same time it's wildly imaginative, presenting a paranormal world that I'd love to immerse myself in. The well-developed concept of the goddess and the curse was fascinating. I really enjoyed how Trent developed the cougar culture. Although this could and can be read as a standalone, the previous novel gives a great deal of context into the glaring and its history.
Hank's antagonism and sense of hopelessness made me want to cry. The difference between Hank and his cat with respect to Miles was obvious and comical at times. Miles' past so affects her interactions with Hank hampering them more often than not, but also allows her to connect with the rest of the glaring.
Trent has definitely created a novel that will hold your emotions and imagination throughout. It was a fantastically romantic novel with a dash of heat to kick it into higher gear.
Book Links