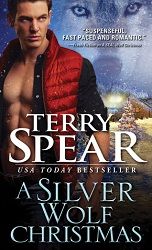 Title:
A Silver Wolf Christmas
Series:
Heart of the Wolf #17
Author:
Terry Spear
Publication Date:
October 6/15 by Sourcebooks Casablanca
Length:
384pgs
Genre:
paranormal romance
Shelf:
review
Rating: ★★★★
Back Cover Blurb:
Fans of shapeshifter romance will be thrilled to spend Christmas with the Silver Town werewolf pack...
C.J. Silver is eager to help the new she-wolves in town renovate the old hotel in time for the holidays, especially if it means spending time under the mistletoe with the alluring Laurel MacTire.
The bustle in the long abandoned hotel attracts the attention of human ghosthunters out to prove the place haunted, but the bigger problem is keeping them from discovering the werewolves in Silver Town. CJ and Laurel have to pull the wool over everyone's eyes. Working together is a surprisingly hot holiday treat for two attractive and clever wolf shifters.
My Review:
Welcome to Christmas wolf shifter style! Spear creates an exciting and fun story that kept me on my toes while taking me deep into the world of her unforgettable characters. The underlying current of mystery had me trying to puzzle it out while also enjoying my foray into this wolfy world. She uses descriptions to advantage, developing characters you can picture & feel as if you know, and settings that come to life, but leaving room for your imagination to run wild in this fantastic world. Spear develops her concept of wolf shifters well. She really lets readers know what it means to be one, how the pack works, and other cultural details.
Laurel's questioning and secretive nature combines with her need to let loose and be a wolf. CJ's persistence was so perfectly man infatuated meets wolf gets what he wants. He was the perfect hero for Laurel's story and a great sub-leader for the pack. The intriguing family and pack dynamics show just how close the cast of characters in this novel are. I love how many of the wolf shifters try to explain way anything supernatural, refusing to believe in the possibility. Also, the way that they keep humans from moving into the areal made me giggle.
Spear has definitely created a welcoming Christmas novel with a spooky feel at times that really makes the story stand out. It's a great addition to the series and also a novel that can be read as a standalone. I wouldn't hesitate to recommend it to others.
Book Links