Bon Appétit and a Book with author Tawny Webber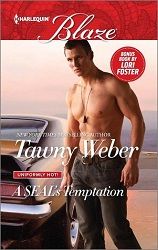 Title:
A Seal's Temptation
Series:
Uniformly Hot
Author:
Tawny Weber
Publication Date:
August 18/15 by Harlequin
Length:
288pgs
Genre:
contemporary romance
Shelf:
review
Rating: ★★★★★
Back Cover Blurb:
In
A Seal's Temptation
, Lark Sommers's dry spell is officially a sex-starved desert. Since taking over her mom's quirky coffee shop in Nowhere, Idaho – putting her own career on permanent hold –Lark's been, well, miserable. But her friends have a plan…one that starts with a superhot guy with a rockin' hard bod.
US Navy SEAL Shane O'Brian has no clue he's being set up. All he knows is that Lark does incredible things to his libido. Still, Shane can't quite bring himself to tell her what he does for a living. After all, their risqué business is temporary – no strings, no falling in love…especially when there's no way this SEAL would ever be tempted into anything more than a sexy little fling.
Praise for A Seal's Temptation:
"The realism and worry in loving a member of the military takes center stage as Lark and Shane's relationship develops in ways neither expected." –
RT Book Reviews
"An uber-sexy romance any military romance fan will enjoy!" –
Coffee Addicts Book Reviews
"I found myself impressed with the way Tawny drew me into the story right from the very beginning, entertaining me with a wit that I found irresistible." –
Maldivian Book Reviews
About the author:
New York Times and USA TODAY Bestselling author of more than thirty books, Tawny Weber writes sassy, emotional romances with a dash of humor, featuring hot alpha heroes. It's all about the sexy attitude! A fan of Johnny Depp, cupcakes, and her very own hero husband, Tawny enjoys scrapbooking, gardening, spending time with her family and dogs, and hanging out with readers on Facebook. Fans are invited to check out Tawny's books at her
website
. For extra fun, join her Red Hot Readers Club for goodies like free reads, complete first chapters, recipes, insider story info and much more. Her books are available in sixteen countries.
My Review:
Was a quick, sweet read! Weber had my attention from page one to the very end. The mix of Navy SEAL and a rather unique bakery had me from the get-go. The way that Weber developed her characters' emotions definitely sealed the deal.
The way that Shane catalogued everything, so natural to him, really build up his character for me. I loved Lark's quirkiness, and her ever caring nature. These two were so fun to get to know. The way that Weber developed them in a real life manner was fantastic.
Weber has created a light-hearted, light read that takes a real look at the lives and relationships of those in the military.
And after Weber's fantastic novel, we get a dose of Foster's MMA world with HARD KNOCKS. This novella was an intriguing look at the live and relationship of a MMA fighter. There are scenes so hot that I swear there was steam rising from the pages. These scenes intermingle with down to earth, real life interactions between the characters. Foster definitely brings the rec centre & the world surrounding it to life.
I love the way that Foster puts Gage's inner turmoil and struggle to paper, not only does it give you a deeper sense of who he is but it also develops the story in an unmistakable way. I loved this intro into the fighters. She sets them up perfectly for the series.
My biggest disappointment with this one? The fact that it wasn't a full length novel. Don't get me wrong, it's a complete story in and of itself and I absolutely adored it, but I so loved these characters and I didn't want to let them go. Foster definitely has me hooked on this series!
Book Links