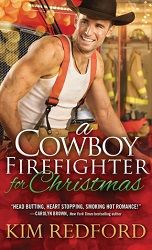 Title:
A Cowboy Firefighter for Christmas
Series:
Smokin' Hot Cowboys #1
Author:
Kim Redford
Publication Date:
October 6/15 by Sourcebooks Casablanca
Length:
384pgs
Genre:
contemporary romance
Shelf:
review
Rating: ★★★★
Back Cover Blurb:
Trey Duvall, a rancher and local firefighter, is out of luck. His ranch has suffered from several 'accidental' fires and there is no explanation in sight. All he wants for the upcoming holiday is to get to the bottom of this mystery, but what he gets instead is hotter than any ranch fire when he meets city-girl Misty Reynolds.
My Review:
This story was priceless. The plot was intriguing and the premise sound. I enjoyed the fire investigation aspect of the story. It wasn't overly suspenseful, but it was quite intriguing. The characters in this novel were fun, funny, and genuine. Redford develops her characters in a fantastic manner. The tender-hearted cowboy/firefighter was a blast. The combination of firefighter and cowboy was fantastic.
This was a light, fluffy read that I definitely had fun with. It's a great Christmas tale, and a fun for all story year round.
Book Links