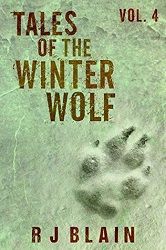 Title:
Tales of the Winter Wolf Volume 4
Series:
Witch & Wolf
Author:
R.J. Blain
Publication Date:
August 28/15 by Pen & Page Publishing
Length:
109pgs
Genre:
paranormal
Shelf:
review
Rating: ★★★★
Back Cover Blurb:
Long before Nicolina Desmond manifested her powers as a wizard, she was a Normal girl with extraordinary circumstances. In order to prove herself and escape her father's chokehold on her life, she's determined to get on the fast track towards an independent life.
However, she never anticipated how meeting Richard Murphy would change her life…
Tales of the Winter Wolf follows the adventures of Nicole and Richard, characters from Witch & Wolf #2, Winter Wolf. These stories contain spoilers for the novel.
Tales of the Winter Wolf, Vol. 3 includes the following short stories:
Tangles
Between her father's plans to subject her to a trip to Yellowknife and the matted ruins of her hair, Nicolina's life has become a tangled mess. When help comes from an unexpected source, she's forced to look at herself and her worst enemy in a different light.
Witch
When an Inquisition witch shows up to take Richard into custody, Nicolina once again proves he has a lot to learn about Desmond's daughter.
Striking a Deal
Dealing with the devil has its risks, but when Nicolina strikes a bargain with Richard Murphy, she fears she has bitten off more than she can chew.
In Hot Water
What should have been a relaxing side trip to the mountain springs lands Richard in hot water.
Breaking Point
Everyone has a breaking point, and Nicolina Desmond is no different. When her father crosses the line one too any times, an impulse decision results in her teaming up with Richard Murphy for some good old-fashioned payback. The only problem? Their opponents are three of North America's most dangerous wolves and the entirety of Richard's pack.
My Review:
I definitely love the world that Blain has created for Witch & Wolf proper, as well as this mini-series off to the side. The world is so vivid. Everyone and everything is larger than life. The short snipits into the characters' lives that we experience in this novel are a prime example. Each story is complete in and of itself, yet at the same time, together they create a complete whole. I definitely couldn't put this one down!
Book Links