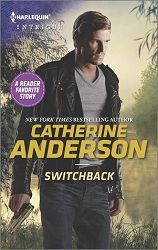 Title:
Switchback
Author:
Catherine Anderson
Publication Date:
August 18/15 by Harlequin (1st published 1990)
Length:
256pgs
Genre:
romantic suspense
Shelf:
review
Rating: ★★★★★
Back Cover Blurb:
You'll find edge-of-you-seat suspense and fearless romance in Switchback. Bud Mac Phearson's job is to protect Mallory Christiani and her young daughter, Emily – not to get personally involved with either. But after Emily disappears and the trail leads directly to a well-known crime boss, Mac can't refuse the beautiful single mother's pleas for help.
With assassins hot on their trail and danger around every corner, the tentative partners race to find the missing key needed for the ransom…even as they try to fight the attraction blooming between them. But when Mac trades his own life for Emily's, Mallory must risk it all to save the man she's come to love.
About the author:
bestselling author Catherine Anderson resides with her husband, two spirited dogs, and three indomitable cats on a vast, forested ridge overlooking beautiful central Oregon scenery. 'It is the perfect place,' she says, 'for a writer to find inspiration.'
Praise for Catherine Anderson:
"Not only does Catherine immerse you in the story…she makes you think outside the story, too." –
Harlequin Junkie
"Anderson added twists, danger and delightful moments that kept me flipping through the pages." –
Caffeinated Book Reviewer
"If you've not read Catherine Anderson, you should. Her books are quite satisfying." –
The Good, The Bad and the Unread
"One of Anderson's hallmarks is creating opportunity for lost souls to find redemption." –
RT Book Reviews
"This is one author who continues to push the romance genre forward by blending sweetness with remarkable insight." –
Bitten by Love Reviews
My Review:
And this is what Harlequin Suspense is all about! This novel is excitingly fast paced. Anderson writes sense and danger that makes your senses tingle. This novel is bone chillingly frightening; I could easily imagine myself in the same situation. At the same time, the romance and the chemistry between the main characters was unforgettably off the charts, yet completely realistic.
I loved the characters that Anderson brings forward are endlessly entertaining. I loved how Mallory cared so deeply about everything. Her emotions were so strong and absolute. Bud`s prejudices warred with his emotions and resolution to do the right thing in such a manner that I couldn`t help but love him, even when I thought he was being a fool. Their trials and near misses while working towards Emily`s return really developed them in a big way.
Anderson definitely held me captive with this novel. It`s one of those novels that I can`t wait to dive back into. The characters were realistic and inviting, and the action was chilling and frightening, all topped off with chemistry that`s off the charts. I can definitely see why this is a `reader favourite` novel.
Book Links