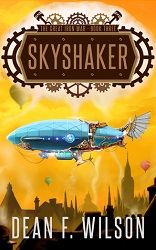 Title:
Skyshaker
Series:
The Great Iron War #3
Author:
Dean F. Wilson
Publication Date:
August 29/15 by Discouri Press
Length:
240pgs
Genre:
steampunk dystopian
Shelf:
review
Rating: ★★★★★+
Back Cover Blurb:
The Resistance takes to the clouds aboard the Skyshaker, the newly-completed airship aimed at dominating the heavens, when the land far below has become a hellish place ruled by demons.
General Rommond fixes his attention on the city of Blackout, the old capital of the world, controlled by the Treasury, who are themselves controlled by the ruthless Regime. The skies above that city will no longer hide in smog; fire and fury will light up the sky. That centre of the old civilised world will either shift allegiance to the Resistance, or it will burn to the ground.
Yet there are always others who will resist the attempted change of power. From sky pirates and mob bankers to the feared mechanical men of the Iron Guard, Jacob and his new family of freedom fighters will face greater challenges than they have ever faced before. As bombs drop from the sky like the iron tears of gods, there are other revelations that will shake the foundations of everyone struggling to save humanity.
My Review:
Wilson's stories keep drawing me deeper and deeper into their fold. The steampunk world that Wilson has created to carry this series forward is becoming so vivid by this point in time in the series that I feel as if I had walked through it on my own. This story was amazing in its imagination and in its implications. Suspense, intrigue, and survival underlie everything. The story itself is fast paced and action packed. Wilson's writing brings emotion forth as vividly as it does a sky battle.
Wilson's characters continue to develop, becoming even more captivating. The natural dialogue filled with witty banter brings them to life in a way unlike any other. Real life crises and heartbreak are present amidst the craziness of war, pulling the characters in multiple different directions at once.
My final thoughts? Dean Wilson, you will be the death of me! I absolutely need to know what happens next!
Book Links