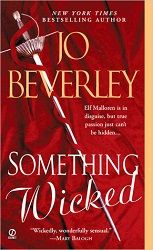 Title:
Something Wicked
Series:
The Mallorens & Friends #3
Author:
Jo Beverley
Publication Date:
January 4/05 by Signet (1st published 1997)
Length:
384pgs
Genre:
historical romance
Shelf:
borrowed
Rating: ★★★★
Back Cover Blurb:
Frustrated with her boring life, a beautiful woman decides to spice it up with fun and flirtation at a masquerade ball. But what she doesn't count on is a chance encounter with her family's most dangerous, and handsome, enemy. It is an encounter that sparks an incredible passion with a man she should not love!
My Review:
Beverley has created another winner with this one. The mix of treason, deception and all out enmity in the intertwining aspects of the story make for an intriguing read. The author's writing calls to mind the air of the time period. I found it easy to immerse myself in this step back. Beverley's writing always has such a tongue in cheek feel to it. It never fails to make me giggle.
I appreciate how well developed the Mallorens are as a family and as individuals. The differences between their situation and that of their peers really stands out without being dwelled on. Everyone stands out in their own way and on their own merits. At the same time, the main characters in this novel are absolutely priceless. Fort's battle with his past, both what he's lived through and what he's done, colours his view of the world. Elf's need for adventure endeared her to me. I love how she was willing to step out of the mould for women, while knowing she was doing so. Her utter belief in her family was something we all could do with.
This novel was definitely Something Wicked. Beverley has created an unforgettable, adventurous, at times comical, and definitely romantic addition to the Mallorens series.
Book Links