Q ~ Can you tell us a bit about yourself?
There's actually two of us! "AJ Tipton" is the name of our writing team – the "A" is for Annie, the "J" is for Jess, and the "Tipton" came from a movie poster on the wall of our apartment. We met ten years ago on the college fencing team and have been friends ever since. We live in Brooklyn and work for big corporations in Manhattan. We enjoy hard cider, archery, nerdy TV shows, and naps.
Q ~ If you could have coffee (or tea) with any author who would it be and what would you ask them?
Jess:
Tina Fey! Bossypants was an amazing book. I would ask her about the things she's written that didn't make it into the book, or her shows, and why they were cut. She's an excellent speaker and appears to always lay out the truth about her industries.
Annie:
Since there wasn't a "must be living" clause in the question, I'd go with William Shakespeare. I'd love the chance to talk about his writing process (have him prove once and for all who wrote his plays), his education, and his personal influences within his stories. While I was there, I'd take the opportunity to record the entire interview with multiple cameras, sell it for several billion dollars, and then retire from my day job forever.
Q ~ If you could be any animal, which would you be and why?
Jess:
This might be a boring answer, but I am 100% team human. The only species to have the sweet, sweet internet. **hugs laptop**
Annie:
Dangit, Jess! That's the best answer! I agree. I'm team human. Thumbs are great. But, in the spirit of the question, I'm going to go with vultures. They have flocks (never lonely), no predators (always a win), and will survive global climate change because they can eat nearly anything. They might not be the prettiest, but they're survivors. They also have the only non-racist song in Disney's
The Jungle Book
, and who doesn't love a nice barber-shop quartet?
Q ~ How do you think people perceive authors?
Jess:
This question actually made me laugh out loud. There's a variety of perceptions, and they vary by individual, of course. I think the most common two perceptions are the beret-wearing idealist, scribbling down words at a café, tearing up at the beauty of the sun, and the other is a total slacker, unwilling to get a 'real job' and never actually finishing their book. Neither of these are us.
Annie:
In addition, I think there's a divided perception between traditionally published and self-published authors. Although the stigma around self-published authors is certainly shifting (yay!), there is still a divide. The perception of traditionally published authors remains, in some circles, as the pipe-smoking intellectual sitting in a Masterpiece Theatre arm chair with a typewriter pouring out the soul of universe's truth. That's compared to the self-published authors writing Harry Potter fan fiction where Harry is in love with a unicorn, and then hoping nobody notices the similarities. Also not us.
Q ~ How do you feel about self-publishing?
Jess: I'm a bit of a control freak, so I absolutely love it! It's fantastic to not need anyone's permission or approval to publish our stories. There's also a handful of wonderful communities of self-published authors online, and it's amazing to see people helping each other out instead of tearing them down.
Annie:
I came into this from a more traditional publishing mind set. I'm actively working on a novel(s) that will hopefully, ideally, someday, put-out-a-saucer-of-milk-for-the-fairies-to-not-curse-my-house, be traditionally published under my real name. But after being part of the AJ Tipton team for over a year, I've come around to really loving the freedom of self-publishing. It's a different way of thinking and writing that embraces flowing fun that's hard to get past all of the traditional publishing gatekeepers. We also have much greater control over our covers, marketing, and work. For us, the only limitation to success is ourselves, rather than the possibility of getting screwed over by a publishing house who arbitrarily decided that we're not the "it thing" this season.
Q ~ Ebooks, paperbacks, or hardcovers?
All of the above! We started out with just EBooks, but have recently started to branch out. Our novellas are quite short, so the paperbacks (gotta love createspace!) are only available for the collections at the moment. We're also branching out into non-English languages, starting with German and Spanish. It's fantastic to be able to bring our stories to the world!
Q ~ Do you have a favourite author? Do they influence your writing?
Jess:
This is such a tough question! There are so many great authors out there. If I had to choose, I'd say Douglas Adams. I've read all of the
Hitchhiker's Guide
books that I could get my hands on, several times. I can only hope some of the fantastic comedy rhythms and hilarious use of understatement make their way into my writing.
Annie:
Hmmm, for the types of books we write as AJ Tipton, my greatest influences are Milly Taiden (the lady knows how to write a sassy woman and a great BBW paranormal romance love scene) and Courtney Milan. Courtney Milan is one of the few romance authors I've read where I can remember distinct scenes and characters from her books that I reference and think about in life. All of her books are thoughtful and funny, with female characters who are truly great heroines, rather than the typical romance book where a woman being not-immediately-dumb is enough for her to be labeled as "strong" by her peers. Her men are also distinct individuals rather than generic "rake that needs moral guidance" guys. It's a standard of character development we're working toward.
Q ~ How did you begin writing? Was there a single catalyst or a series of events?
There was an article on the website io9.com (which, if you don't read io9, you absolutely should) that was about how popular dinosaur and Sasquatch erotica had become. We thought it was really funny and we were chatting at the bar about the article. The conversation went from "that's so crazy" to "we could totally do that!" as the drinks kept rolling in. We still haven't written anything dinosaur or sasquatch-related, but that night we started outlining the Her Elemental Vikings series. The rest is history.
Q ~ What's the best thing that's happened since you began writing? The worst?
Jess:
I think the best thing that's happened is getting emails from people who love the books! It's so insane to me that someone would take time out of their day just to say "thank you" or "ohmigosh I loved this". It's incredible. I think the worst thing that's happened (and honestly it's not that bad) is the snooty responses from people about these stories. "Ew, you write what? I don't read those kinds of books." **adjusts monocle**
Annie: Looking at the Amazon sales charts and seeing the page count-read dot go higher and higher every day brings more joy than I anticipated at the beginning of this venture. I'm not the first to comment that writing is mind control: the images in the author's head being transmuted via magic to the reader's mind. But knowing that our books are out there, that the characters we created in our living room are now dancing and fucking in other people's heads, makes me happier than it probably should. The worst thing that's happened? We don't have time to do puzzles any more when we get home from work. I love puzzles.
Q ~ Do you have any writing rituals that you follow? What is your go-to snack while writing?
When we start a book, we grab a few notebooks and head to the bar. There, we outline the plot, characters, conflicts, etc. over a few drinks. The paperback of the Audrey's Collection is actually dedicated to our local bar. After we've agreed on the general scope and characters of the book, we'll outline the scene-by-scene break down at home and decide who's going to take the first stab at which sections. All of our books have at least two perspectives and, for the initial draft, we'll write the perspectives of a specific character separately (although we always stick with the agreed-on plot outline). We'll throw on some music (without lyrics – so important!) and just write like crazy.
Go to snack would definitely be hummus! It's great on everything and not too too unhealthy. Annie drinks a truly exorbitant amount of Diet Coke.
Q ~ What are your five favourite verbs to use during a love scene?
Jess:
Ooo this is a great question. If I had to just chose five it would be: caress, moan, plunge, pump and spasm.
Annie:
Hmmm, this is hard. Hee hee. Hard. But, right, verbs. I'm going to go with: ride, startle, grind, stiffen, and whimper.
Q ~ Are you a plotter or a pantser?
Definitely plotter – it's so important when writing as a team to make sure we are on the same page (pun intended) with where the story is going.
Q ~ When you write, do you try to reach a specific word count or simply write until you are done?
Definitely write until we're done. It's important to tell a full story, but readers can tell when you're wasting their time to make word count. That said, there are outlines for stories that we have scrapped or started over from the beginning because we felt like our idea was too ambitious for the novella-length stories we write (our Beauty and the Beast retelling was re-outlined from scratch at least four times over eight months before we started writing), or that it doesn't have enough going on to fill a whole story.
Q ~ Do you prefer to write in a small town or big city setting? Why?
Small town settings are usually best for the sort of supernatural shenanigans we have going on. If there's a bear shifter wandering around in a small town, odds are nobody will bother him. If there's a bear walking down Broadway, you can bet that animal control will tranq him within the hour.
Q ~ Can you tell us a little bit about your latest release Snow Truer Love?
Snow Truer Love
is the fifth book in our genderswapped fairy tale series. We love fairy tales, but notice that the stories almost always put the women in a passive role, which never sat right with us. Simply changing up the genders has added new dimensions to these familiar stories.
Snow Truer Love
is the genderswapped Snow White and the Seven Dwarves. Snow is the handsome prince, who is on the run from his murderous stepfather. He's aided by one of the king's advisors (Mirror – from
Handsome and the Beast
). Mirror and Snow join up with seven exiled dwarves (yup, female) to hatch a plan to take his kingdom back. This is a really fun story that's sexy, action-packed, and deviates enough from the traditional story enough to keep the reader guessing about what's going to happen next.
Q ~ Can you tell us a bit about the process that went behind the cover artwork for this novel?
We usually find a stock photo of our couple before writing the story. This way it's easier to ensure the description of the characters match up with the cover art (and that our descriptions, when writing separately, line up with what the other is picturing). We found this couple for
Snow Truer Love
in mere minutes, and stopped looking around because they were so perfect. There's something about this pose, and their overall look that screams "Fairy Tale". Once we had this picked out, we found a picture of a castle, and sent it all to our cover artist to put together. I think she did a terrific job!
Q ~ Of the works you've written, which is your favourite? Is there also a character that holds a special place in your heart?
Jess:
This is such a tough question! I think I'd go with Alpha's Mates. It has a bit of a twist on the "Alpha Billionaire" trope, because our protagonist--who is the Alpha of her shifter clan and also a billionaire--is a woman. This book revolves around Cleo, who we first see in Alpha's Heir and who got so much love in the reviews and emails, we decided to give Cleo her own book. Alpha's Mates takes place on a ranch that serves as a sanctuary for supernatural creatures (centaurs, sphinxes, etc.) and it was so much fun to write about such a wide variety of magical animals. The two studly owners of the ranch weren't too hard to write about either.
Lola is definitely a character that holds a special place in my heart. She sort of just showed up, fully formed in our minds. I love how sassy and overtly mystical she is, like she's double-dog-daring you to ask about her secrets. So far, none of our characters been brave enough to ask.
Annie:
It's a close toss-up between
Her Rock Hard Viking
and
What the Queen Wills
, our first genderswapped fairy tale, but I'm going to go with Rock Hard. I love HRHV so much because the premise is just crazy: the woman falls in love with an island. Not on an island. With an island. It's the sort of utterly insane premise Jess and I talked about the first night we decided to start write paranormal romance. And it works! It's one of our most sentimental and sweet, romantic stories. Carr is also one of my favorite of our male characters; he toes the line perhaps better than any of our others between being a strong, Alpha Viking guy, and the guy who would believably make flowers appear at his girlfriend's feet to see her smile. As one, we say "awwwwwww." And, yes, obviously Lola is the best. I love her so much.
Q ~ Do you have anything in the works at the moment? Care to give us a hint about it?
Yes! There's always something in the works. Right now we're working on a genderswapped Rapunzel story. Not to give too much away, but Mal from Breaking the Curse will have a big part in this one. And Parker, our favorite dwarf from Snow Truer Love, is going to play a major part. The Rapunzel retelling is going to be our last genderswapped fairy tale (for the time being) before we go back to finish up the last three books in the Dragon Shifter Motorcycle Gang series.
Q ~ If you could give aspiring authors one piece of advice, what would it be?
Jess
: Keep writing! Even if you're not in the mood, having a bad day, have writers block (which is SO not a thing, guys), just sit down and write something. It doesn't have to be perfect – that's what editing is for!
Annie:
Write every day. Even if it's just for a bit. And then, once you've gone through it a few times and sent it to an objective proofreader to find typos and inconsistences…put it out there. There is only tragedy in the idea of a completed novel sitting in somebody's drawer. Whether or not you put it out under your own name is your business. Whether you even tell anyone it's out there is your business. But write and then let that story go forth into the world!
About the author:
AJ Tipton is the pseudonym of a writing team: Annie and Jess (Get it? "AJ." You get it). Corporate drones by day, we spend our evenings writing fantasies to astound, arouse, and amuse. Located in Brooklyn, we are total dorks and love it.
Our ideas for future books--everything from sex-robots to ghost brothels--will keep us busy for many years to come, so follow along for the fun and let us know what series you like best. We love to hear from readers.
Author Links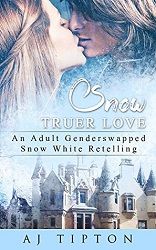 Title:
Snow Truer Love
Series:
Sexy Reversed Fairy Tales #5
Author:
AJ Tipton
Publication Date:
September 3/15
Length:
55pgs
Genre:
erotic fantasy
Shelf:
review
Rating: ★★★
Back Cover Blurb:
Adventure for the fairest of them all
In a magical kingdom far away, there lived cursed princes, warrior women, and mighty magic. Snower Truer Love is a sexy genderswapped retelling of Snow White where the heroes have become heroines, the heroines have become heroes, and nothing is as it seems.
When handsome Prince Snow is finally eligible to be king, the people declare Snow must dethrone his tyrannical stepfather, Victor. But when Victor hears he may be replaced, the jealous ruler decides Snow must die. With his life and kingdom on the line, Snow teams up with the lovely Mirror--the woman he secretly loves--to end his stepfather's tyranny, whatever the cost.
When Mirror first arrived as an advisor to the slimy King Regent Victor, she thought she'd found the easiest job in the world: just tell the ruler he is the fairest of them all. When Victor's decrees threaten Snow's life, Mirror knows she must risk everything to help Snow regain control of the kingdom.
This genderswapped fairy tale for adults features sexy FFM threesomes, feisty dwarves, and the most beautiful love of all.
These STANDALONE novellas can be read in any order. There are no cliffhangers, and each short ends as it should: happily ever after.
My Review:
Cute & funny takes turns with hot and wild. Tipton definitely takes Snow White and turns it on its head with this one. This short story was definitely filled with some quite erotic moments. Tipton develops them well and they definitely do have purpose within the story itself, rather than simply being interludes. The mix of fantasy & modern slag was unique, but it definitely worked for this story. I'll admit, there was a bit of stuttering over the editing in this one. It could have used another pass through, but it was nothing too distracting.
As in many short stories, the characters were somewhat superficial. Snow's naiveté and lack of wits made me question why so many wanted him on the throne. At the same time, he had some hidden talents that allowed him to shine. I liked how this story tied back, albeit loosely, to the previous story in the series. Tipton reminded me, briefly, how much I enjoyed Mirror's character in that story as well.
I find that Tipton's Gender Swapped Fairy Tales don't have quite the same flare as their shifter stories, but are still quite enjoyable, quick, hot reads.
Book Links