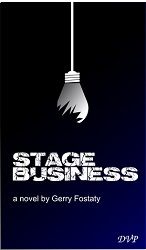 Title:
Stage Business
Author:
Gerry Fostaty
Publication Date:
November 22/14
Length:
190pgs
Genre:
mystery
Shelf:
review
Rating: ★★★★
Back Cover Blurb:
Michael Dion is an actor, not a detective, but when Amanda, his colleague, asks him to help her find Kyle, her friend's rebellious son, how can he refuse?

The gig turns out to be much more than Michael had bargained for. Kyle has fallen into the clutches of small-­time drug dealers. Egged on by Amanda, Michael bluffs and blusters his way to secure the boy's release, but the thugs overreact, putting Michael's life at risk until his fellow actors come to his rescue.

The theatre professionals understand better than anyone about how perception masks reality, and use their expertise, as well as the narcissism and conceit of their adversaries, to rescue each other and the boy, and then passively exact their revenge.
My Review:
What a well written and thought provoking novel. The plot was well thought out and fun, while also creating a very believable scene for readers. Above all, I enjoyed how real this novel was. Fostaty keeps it tied to the present and to reality while taking readers on a one of a kind adventure. Suspense is present throughout as the mystery unravels. At the same time, this novel is a light, at times very comical novel that held my attention throughout.
Fostaty's characters are fun, funny, and easy to get along with. I loved the different personalities and how they meshed together. Their intertwining and intersecting lives bring the cast together as a whole just as much as their common goal does. I loved the inventiveness and ability to act at a moment's notice.
Fostaty has definitely created a winner with this one! This is one Canadian author well worth watching.
Book Links