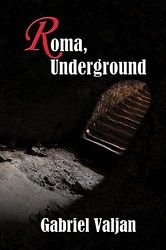 Title:
Roma, Underground
Series:
Roma #1
Author:
Gabriel Valjan
Publication Date:
February 13/12 by Winter Goose Publishing
Length:
340pgs
Genre:
mystery
Shelf:
review
Rating: ★★★★
Back Cover Blurb:
Savvy forensic accountant Alabaster Black is hiding in Rome from her former employer, covert U.S. organization "Rendition." While there under an assumed name she meets Dante, an investigator, erstwhile explorer and member of the Roma Underground, a band of amateur archaeologists who map the city beneath Rome. With Italian artifacts disappearing at an alarming rate, Alabaster and Dante search for answers and create a trap for the thieves. Through a mysterious online contact Alabaster learns she is being followed, and with her safety at risk she is forced to rethink her chosen alliances and discover hidden truths about herself.
My Review:
Valjan combines mystery and suspense, creating a unique novel set in Rome that easily transported me there. The setting was well developed, allowing readers from all over the world to picture what was happening and where. The intricate plot kept me guessing, trying to unravel the mysteries. At the same time, Valjan made sure to add some comic relief to the tale. I definitely had some laughs over this one.
All of the characters in this novel, be they major players or minor ones, were fantastic to get to know. I thoroughly enjoyed how each of them added something important to the novel. They were also well developed, unique individuals. I appreciated how each of the major characters really stood out on their own, creating their own spheres that intersect with one another.
This was definitely a fun, intriguing novel that had me thinking. It was a fantastic start to Valjan's series that I would easily recommend to others.
Book Links