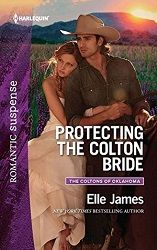 Title:
Protecting the Colton Bride
Series:
The Coltons of Oklahoma #4
Author:
Elle James
Published:
September 1/15 by Harlequin Romantic Suspense (August 21/15 as ebook)
Length:
304pgs
Genre:
romantic suspense
Shelf:
Netgalley
Rating: ★★★★
Back Cover Blurb:
A cowboy's marriage of convenience may lead to a deadly honeymoon in the latest from New York Times bestselling author Elle James
With his ranch in financial trouble, cowboy Daniel Colton makes the perfect proposal to Megan Talbot—a marriage of convenience to save his business and ensure she receives her inheritance. But spending night after night with the strawberry blonde beauty tests all boundaries of Daniel's self-control. And when a killer targets his new bride, vying for her estate, it sets off all of his protective instincts. Daniel refuses to trade his honeymoon for a funeral. Now it's a race against the clock to track down the culprit and protect the wife who's starting to be so much more to him than just a business partner.
My Review:
Sweet romance meets the realities of life in this intriguing addition to the Coltons of Oklahoma. I love the way that this marriage of convenience evolves, from beginning to where the novel ends. I also enjoyed the way that James doesn't end the story with a sense of completion. I loved the feeling that these two were going to continue their HEA together.
The main characters in this novel had me laughing and cringing in turn. Seeing Daniel come to grips with who he really is, which is more than simply a stereotype, was great. For those who've been following the series, it's like all the pieces of his life are finally falling into place. For Megan, it seems like everything that could go wrong, did go wrong. The sense that these two will always be there for one another, even if they've yet to realize it, was a staple throughout the novel. When the rest of the Coltons rallied around them, James had a cast that fully captured my attention.
This was a quick, sweet read with enough romance and suspense to keep me hooked. James has definitely created a welcome addition to the series.
Book Links