Title:
Madison's Song
Series:
Cassie Scot Companion Novel
Author:
Christine Amsden
Published:
September 15/15 by Twilight Times Books
Length:
272pgs
Genre:
paranormal romance
Shelf:
review
Rating: ★★★★★
Back Cover Blurb:
Her voice is enchanting; his soul is black...
Madison Carter has been terrified of Scott Lee since the night he saved her from an evil sorcerer – then melted into a man-eating monster before her eyes. The werewolf is a slave to the moon, but Madison's nightmares are not.
Despite her fears, when Madison's brother, Clinton, is bitten by a werewolf, she knows there is only one man who can help. A man who frightens her all the more because even in her nightmares, he also thrills her.
Together for the first time since that terrible night, Scott and Madison drive to Clinton's home only to discover that he's vanished. Frantic now, Madison must overcome her fears and uncover hidden strengths if she hopes to save him. And she's not the only one fighting inner demons. Scott's are literal, and they have him convinced that he will never deserve the woman he loves.
*Stand-alone companion to the Cassie Scot series
Excerpt:
A minute later he heard the front door open, but it didn't close right away. There was a startled yelp, one so soft he wouldn't have heard it without the heightened senses of his wolf. It almost sounded like ... but that was impossible.
"Well hi there, honey," Jessica said in her sugary sweet bitch voice. "No wonder Scott was in such a hurry to kick me out if he had you coming over. Why don't you just head on in? He's waiting in his bedroom."
Scott let out a string of soft curses that Jessica would have heard perfectly, though a normal woman standing on the other side of the door would not. Flinging aside the covers, he reached for a pair of jeans, managing to pull them on just before Jessica returned, ushering in the woman who had been haunting his dreams for years.
Madison looked beautiful to him, even in jeans and an oversized t-shirt that hid the curves he had spent hours studying from afar. Her thick brown hair lay in graceful waves around her shoulders, glowing with health and making him itch to touch it to find out if it was as soft as it looked. Her scent filled his nostrils as longing filled his heart, as well as other less honorable parts of his body.
His pack wouldn't approve. Scott's best friend, Evan, who had discovered that Madison was his half sister a year ago, would rip Scott's head off if he touched her. But those weren't the reasons he kept his distance.
The reason Scott kept his distance was shining from Madison's eyes: Terror. Worse than that, though, was the knowledge that he had put it there in the first place. She had reason to fear him, both for what he was and what he had done to her personally.
"Here's your late-night snack," Jessica said, bringing Scott back to the present. The look in Jessica's eyes told Scott he had better have an explanation for Madison's presence. The words told him she wasn't waiting for that explanation to begin her assault on a perceived threat.
"Jessica. Out." Scott gave her a look that broached no argument, though she opened her mouth a fraction before shutting it again.
"I'm leaving." Jessica gave Madison one last push in Scott's direction, which would have caused the other woman to topple onto the floor if Scott hadn't grabbed her first. "Maybe tomorrow night we can share."
Madison stiffened in Scott's arms, but Jessica was gone before he had a chance to scold her.
Now what? Scott was entirely too aware of the woman he held in his arms, of her softness, of her warmth, and of her scent, reminiscent of sweet vanilla. She often smelled of fear too, at least around him, but tonight the scent was sharper. It spoke of something she feared even more than him. Something that had her half-clinging to him.
He knew he needed to let her go, but something primitive within him rose to the surface, demanding action. Demanding he make her his. He could feel her body trembling, he knew she was afraid, but she didn't push him away. Hope swelled within him, a feeling he had believed long-since buried.
Almost of its own volition, one of his hands went to her hair, the fingers sinking into the thick, silken strands of chestnut. It was exactly as soft as he'd imagined. She had cut her hair a few months ago so that it only fell to her shoulders. After he had set aside his indignation, he had to admit that the new style complimented her round face, drawing attention to her full lips and brown eyes.
Her trembling grew in intensity, making him wonder if she was simply too afraid to push him away. In a sudden burst of clarity, he remembered who he was, what he was, and why he had no business holding this woman. He lingered a moment or two more, cursing himself for what that hesitation said about him as a man, then he set her aside.
"What are you doing here?"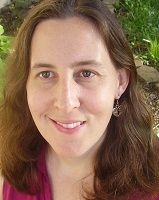 About the author:
Christine Amsden has been writing fantasy and science fiction for as long as she can remember. She loves to write and it is her dream that others will be inspired by this love and by her stories. Speculative fiction is fun, magical, and imaginative but great speculative fiction is about real people defining themselves through extraordinary situations. Christine writes primarily about people and relationships, and it is in this way that she strives to make science fiction and fantasy meaningful for everyone.
At the age of 16, Christine was diagnosed with Stargardt's Disease, a condition that effects the retina and causes a loss of central vision. She is now legally blind, but has not let this slow her down or get in the way of her dreams. In addition to writing, Christine teaches workshops on writing at Savvy Authors. She also does some freelance editing work. Christine currently lives in the Kansas City area with her husband, Austin, who has been her biggest fan and the key to her success. They have two beautiful children.
Social Media Links:
Website
-
Newsletter
-
Blog
-
Facebook
-
Twitter
-
Goodreads
-
Google+
My Review:
Magic and mayhem collide in this fantastic and unforgettable novel! It's one of those rare reads that you pick up and simply can't put down. It caused one very sleepless night for me. I love the voice in which Amsden writes. It's so fun & approachable, while at the same time, it truly drives the story forward. She paints her world before her readers in vivid Technicolor, allowing them to experience it rather than simply read about it.
I loved the characters that Amsden fills this novel with. They're both fun and loveable. The way in which she develops everyone individually here, while also tying it back to how we knew them in the Cassie Scot series was fantastic.
Not only does this story spin off from, and connect back to, Amsden's Cassie Scot series, it's also a fantastic tale on its own. This novel is darker than the Cassie Scot series proper, but all the more delicious for it. I love how Amsden takes these developed concepts and runs with it, while also allowing readers to appreciate this novel all on its own.
The magic in this novel isn't all with the characters; it flows from the tip of Amsden's pen in this creative & imaginative tale.
Buy Links
Paperback Release: October 15
Audiobook Release: TBA
The Cassie Scot Series