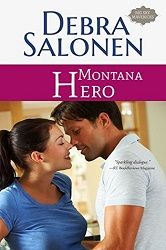 Title:
Montana Hero
Series:
Big Sky Mavericks #6
Author:
Debra Salonen
Publication Date:
August 13/15 by Tule Publishing
Length:
226pgs
Genre:
contemporary romance
Shelf:
Netgalley
Rating: ★★★★★
Back Cover Blurb:
During Flynn Bensen's last wildfire rescue, a woman died despite Flynn's best efforts to save her. He can't escape his sense of failure or recurring nightmares, but he can escape to Marietta, Montana, to a new job as the head of Crawford County Search and Rescue. When he meets his scorching hot co-worker on his first day, Flynn feels like he might have just jumped from one wild fire to another that threatens to burn out of control despite his determination to keep a safe distance.
Outspoken, direct, and ambitious Kat Robinson isn't thrilled to have a new boss—after all, if the timing had been different, she'd have been a shoe-in for Flynn's job. But a single mom of a ten-year-old son knows where her priorities lay—with Brady, the light of her life. No way is she looking for a relationship and co-workers are always off limits. Too bad Flynn's so darn hot, gorgeous, kind and authentic.
Will Flynn be the hero Kat needs to help her find the courage to fall in love again?
My Review:
What a vivid & vibrant story! Salonen captured me heart and soul with this heartfelt and emotional tale of love in many forms. I love the way that she brought Montana to life, the beauty and the danger of it apparent in every scene. The way in which SAR worked in action was amazing. It was so real and life like, I could feel the intensity of the situations.
The variety of different situations that these characters had to deal with on a daily basis, bet they medical or familial or both, added a sense of poignancy and realism to the entire tale. Salonen brought each of them to life in a realistic and apparent way that also brought forth her sensitivity for the subject. I like the way that Brady was developed. His personal POV really let me see how he thinks and feels, as well as how he stands apart from what most consider 'normal'. Surrounded by his loving mother and the ever present Flynn, who's budding romance can't be missed, this is an atypical familial unit that definitely drew me in.
Salonen never fails to capture me with the emotions conveyed through her novels. MONTANA HERO is no exception. If anything, this well plotted, exciting, and romantic novel stands above the rest. It's definitely a novel that I wouldn't hesitate to recommend to those who enjoy romance.
Book Links