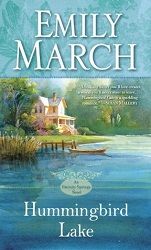 Title:
Hummingbird Lake
Series:
Eternity Springs #2
Author:
Emily March
Publication Date:
March 22/11 by Ballantine Books
Length:
320pgs
Genre:
contemporary small town romance
Shelf:
borrowed
Rating: ★★★★
Back Cover Blurb:
Experience the magic of Eternity Springs, where broken hearts find healing, in this uplifting novel in Emily March's unforgettable new series.
Haunted by painful memories, pediatric surgeon Sage Anderson gives up medicine and moves to Eternity Springs. There she finds a place to call home, but even her newfound success as a gifted artist isn't enough to keep her nightmares at bay. Colt Rafferty is about to change all that.
Eternity Springs is a refuge for Colt, a place to ground himself when the stress of investigating tragedies takes its toll. He has come here for a little R & R, but instead of relaxing, he finds himself fascinated by the mysterious redhead whose secrets beg to be discovered—a beauty running from her past, a heartsick woman in desperate need of the sweet sanctuary of a devoted man's embrace. And he is just the man to show her the true path to peace—by offering her the healing power of love.
My Review:
Once again, March returns with readers to Eternity Springs in a heartfelt and completely unforgettable tale of love, loss, tragedy, and healing. Her enchanting narrative pairs with her picturesque descriptions in a way that allowed me to really experience the setting. March really gives readers a feel for the town and its workings. I loved the mix of small town romance with the faith/heeling aspect of the story. Yet March makes this story so real. It doesn't have that hokey feel that I find in so many inspirational romances. She's never trying to shove concepts at readers, simply telling her characters' stories.
The main characters were a bit of a conundrum. Colt kept pushing Sage for more, yet Sage refused to tell him why it wasn't possible for her. I appreciated both of their tenacities and understood where both were coming from. The fact that they were both so genuine, if a bit unwilling to share all their secrets all at once was so real. And I really enjoyed how we get to know more about so many of the characters in this town. Sage's friends are priceless. They are the epitome of small town women with a twist. I love Celeste's angel in disguise feel.
This was certainly a warm and restorative novel, with some rather emotional moments that brought me to tears. I love how March kept me engaged throughout with this complexly real story where she delves deep into the world of survivors and those around them.
Book Links