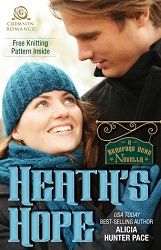 Title:
Heath's Hope
Series:
Beauford Bend
Author:
Alicia Hunter Pace
Publication Date:
September 28/15 by Crimson Romance
Length:
99pgs
Genre:
contemporary romance
Shelf:
review
Rating: ★★★★★
Back Cover Blurb:
From USA Today best-selling author Alicia Hunter Pace comes this emotional gem in the Beauford Bend series.
Heath Beckett would have never moved his renowned stained glass business to the artisan boutique town of Beauford, Tennessee, if he'd thought there was any chance Hope MacKenzie would return there. Ambitious and career-minded Hope left him with a bleeding heart years ago when she couldn't fathom that his art would ever turn out to be more than a hobby.
Now she's back because her family's bank needs her desperately. Although she reluctantly settles into a quiet life in her hometown, she's soon embraced by the knitting circle at a local shop, and Hope finally begins to understand the charms of small-town living: the neighbors who truly care for you and the slower pace that affords an appreciation of more simple joys.
She steers clear of Heath, knowing she foolishly lost her chance with him long ago. But when she gives a personal loan to the women who own the local knitting shop without consulting Heath, who has helped them with their finances for years, the two must work together to ensure the ladies' business plan is in tip-top shape.
Surely a man capable of creating such pure beauty has a heart that can forgive. But can he still love?
My Review:
This story is stronger emotionally than those that came before it. The way in which Pace develops the characters` relationship, both in the past and in the present, really hit me and had me wrapped up in their emotions alongside them. At the same time, she draws readers deep into the heart of Beauford Bend, reminding them just what this small town is all about.
I loved Heath's character. I really appreciate the fact that he's not completely put together. His acclaim winning artistry vies with his social awkwardness to make him not only unforgettable, but completely endearing and loveable. Hope`s need for a plan was both revealing and funny. The way in which these two individuals meshed together so completely showed what a really in tune couple should be. Through their relationship, Pace also proved how anger and love are flip sides of the same coin.
Once again Pace has created a wonderfully romantic and endlessly emotional tale that I read from cover to cover in a single sitting. I wouldn`t hesitate to recommend it to others, in fact, I`d encourage it.
Book Links