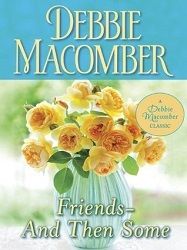 Title:
Friends - And Then Some
Author: Debbie Macomber
Publication Date: December 17/13 by Debbie Macomber Books (1st published 1986)
Length: 175pgs
Genre: contemporary romance
Shelf: borrowed
Rating: ★★★★

Back Cover Blurb:
One of acclaimed author Debbie Macomber's classic novels, this tender story of two people daring to be more than "just friends" is available for the first time as an eBook.
Lily Morrissey knows exactly what she wants in a husband: a big bank account. Not that she's greedy or shallow; she just needs the security for herself and her beloved grandmother. But husband-hunting is harder than she expected, especially with her best friend Jake in the way. In fact, Jake—who would be perfect for her if he weren't so committed to everything money can't buy—is becoming downright distracting, with those jade eyes and that disarming grin.
All Jake wants is the freedom to sail his boat, write his stories, and live life on his own terms. Then his best friend tells him she's going groom shopping. But Jake can't imagine life without Lily or bear the thought of her in another man's arms. How can a rootless guy living a no-strings existence and a woman looking for someone she can count on both get what they need? By letting their hearts choose love.
My Review:
This novel is two parts romance, one part comedy of errors, and a dash of fairy tale. Macomber combines the best parts of friendship with the difficulties of budding romance, and all the heartache of trying to find your one and only. Emotions are palpable throughout, and the plot was quite enjoyable.
Macomber has filled this novel with characters who have heart. They may not always make the most logical decisions, but they definitely make emotional ones. Jake & Lily had me in stitches and close to tears. The ease, yet sudden difficulty that they feel around one another seemed so real and natural to me. Jake's caring yet independent nature made him so easy to fall in love with. Lily's desire for stability was completely understandable, even if she went about it in what turned out to be the wrong way. And one can't forget Gran. She was fantastic and made the story for me. I loved her little eccentricities & all the love she had for those she considers family.
This isn't necessarily my favourite of Macomber's novels, but it's definitely an enjoyable, heartfelt read. It is a great summer read for any who enjoy romance with a little laughter.
Book Links