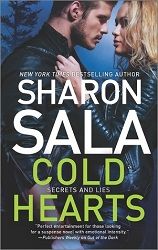 Title:
Cold Hearts
Series:
Secrets & Lies #2
Author:
Sharon Sala
Publication Date:
August 25/15 by Mira
Length:
336pgs
Genre:
romantic suspense
Shelf:
Netgalley
Rating: ★★★★
Back Cover Blurb:
There's only one way to keep secrets buried…
If only it had been something else that brought Lissa Sherman and Mack Jackson back in touch after so many years. Something—anything—other than the murder of Mack's father. Even worse, Lissa's car had been used as the murder weapon.
Thirty-five years ago, four friends went out joyriding and ended up in a terrible accident that left one dead and the others with no memory of that awful night. Now two more people, including Mack's father, have been murdered, and if the lone survivor knows why they're being targeted, she's not talking.
Even as Lissa and Mack find themselves drawn together in the midst of tragedy, the mystery deepens when someone comes after Lissa, too. Is the danger to her tied to the other deaths, or are two killers at work in town? Now Mack has to fight an unknown attacker as well as his feelings for Lissa, but it may be that he can't win either battle.
My Review:
Sala's fast paced, emotive writing sets the scene for this suspenseful novel. I quite enjoyed the different types of suspense that we encountered throughout, from danger to a creepy factor, it was all there, building to a crescendo. Vivid scenes take readers deep into the heart of the tale. The sense of the unknown factors had me on pins and needles and left my needing to read the next book in the series.
By giving readers multiple points of view from town inhabitants Sala not only allows readers to see all sides of what's going on, but also to get to know everyone well. The intertwining stories also gave me something to puzzle out, trying to figure out how it would all come together in the end.
Once again Sala has created a romantic suspense that was hard to put down. This well written novel is well worth reading.
Book Links