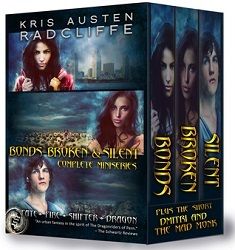 Title:
Bonds Broken & Silent: The Complete Fate Fire Shifter Dragon Second Miniseries

Series:
Fate~Fire~Shifter~Dragon #4
Author:
Kris Austen Radcliffe
Publication Date:
April 25/15
Length:
352pgs
Genre:
urban fantasy
Shelf:
review
Rating: ★★★★★
Back Cover Blurb:
Bonds
Klepto Shifters. Chaos Ghouls. And a young woman running for her life...
Daisy Reynolds might be taller and more athletic than the average seventeen-year-old, but she doesn't make waves. Hiding from her klepto mom's terrifying Shifter ex-boss makes an invisible life necessary. But when a Burner—a chaos ghoul—gets a whiff of Daisy, hiding turns into running for her life.
Daisy soon realizes the conflicts around her run deeper than nasty ghouls and mean Shifters looking to beat up her mom. Future-seeing Fates want a piece of her, too.
But some fates cannot be escaped unless you have courage… and an unlikely ally.
Broken
After Daisy Reynolds's friend and protector vanishes into the desert, she realizes one option remains: Leave San Diego for Branson, Missouri, and ask for help at the bar favored by the dragons.
The Shifters at The Land of Milk and Honey hold the key to finding her missing father, but they also have the power to compel her to spill her secrets. When threatened with an enthralling, Daisy runs.
But bad people take advantage of the threatened and the vulnerable—and escaping a very bad person soon becomes Daisy's only option for survival…
Silent
As a child, a horrendous accident stole Gavin Bower's hearing. Now, he lives his life and works hard to make it into medical school. But the night the Burners come for his best friend, Gavin suddenly finds himself drowning in a new world of Fates, Shifters, and Burners—until Daisy Reynolds Pavlovich saves his life.
While Gavin's best friend, Rysa Torres, fights for her life three states away, Gavin and Daisy fight their own battle. Together, they realize Gavin holds a gift that could save Daisy's mother. And together, they work to take down the most powerful Shifter syndicate on the planet.
My Review:
Radcliffe paints her scenes in tones and hues. You feel like you're looking at an oil painting. Everything pops with a vivid sense of reality that draws you to it. Her writing is simultaneously eloquent and snarky. By writing in short, poignant sentences Radcliffe adds an extra sense of urgency to an already suspenseful tale. Radcliffe throws classic style out the window, telling her wildly creative story in her own way and keeping her readers completely captivated throughout. The way that she combines history with the present and a whole lot of her own imagination creates a riveting tale that you won't be able to put down.
She has also created an extremely well developed world that is backed by a solid and well formulated mythological basis. I love how personified the Dragons are, unlike so many other stories where dragons are simply beats. It makes them easy to identify with and relate too, while allowing the reader to see things from their POV. It also allows the reader to fully immerse themselves into this phenomenal world. Not only is this a fantastically magical story, this novel is also an in-your-face social commentary that really makes you stop and think. I appreciate the fact that this novella is complementary to the Activation trilogy of the series, while also standing alone. I found myself getting excited over each and every new detail revealed.
I love the sense of Daisy's character that you get in this novella. By having Daisy tell her own story you not only get to see who she is today, but how she got to where she is. Getting up close and personal with Gavin was similarly revealing. I found myself really feeling a connection to these two. You also get an intriguing look at the dragons, getting to know them outside of the Activation series. The sneek peek at the Seraphim was also intriguingly cliffhanger-esque. Radcliffe gives you a peek into many histories while developing certain characters in the present. It combines into a heady mix that will make you feel part of this world. You also come away with a much more intense understanding of the Fates & how they work. It was quite enlightening.
If I thought I was addicted to the world of Fate~Fire~Shifter~Dragon before reading this novella I was woefully wrong. This mini-trilogy took it to an entirely new level. Radcliffe melds reality and imagination together in a manner so seamless that you'll find yourself walking through the pages alongside her characters. I couldn't put it down for a second. As a master storyteller Radcliffe merges myth with reality, history with the present, romance with action into a story that one cannot help but love. This series was an emotionally intense and a wild ride. It brought tears to my eyes but also left me laughing. It is definitely a must read series.
Book Links