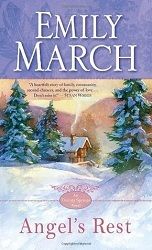 Title:
Angel's Rest
Series:
Eternity Springs #1
Author:
Emily March
Publication Date:
February 15/11 by Ballantine Books
Length:
327pgs
Genre:
contemporary romance
Shelf:
borrowed
Rating: ★★★★
Back Cover Blurb:
Welcome to Eternity Springs, a little piece of heaven in the Colorado Rockies.
Gabriel Callahan has lost everything that mattered. All he wants is solitude on an isolated mountain estate. Instead, he gets a neighbor. Vibrant, no-nonsense Nic Sullivan is Eternity Springs' veterinarian, and she has an uncanny plan to lure this talented architect back to the world of the living. First with a dog, next with a renovation project, and, finally, with a night of passion that ends with a surprise.
Now a man still raw from tragedy must face the biggest struggle of his heart. Can he forgive himself and believe in the power of second chances? Dare he trust in the promise of a future and a brand-new family here in Eternity Springs?
My Review:
Eternity Springs is a town that's easy to fall in love with. March invites readers into the town and develops it in such a manner that it's easy to picture. The plot of the story was captivating, heartbreaking, & romantic. The many little detours along the way made it all the more captivating and wildly realistic.
March has created characters who instantly draw you in. Gabe's tragic past broke my heart. At the same time his winning and giving personality made him someone that I genuinely wanted to see overcome it. Gabe made a miraculous recovery, but I guess that's the point. It's a miracle from an Angel. It also wasn't all at once. His gradual healing was, and still is, an ongoing process. Nic was an intriguing heroine for this tale. The clashing of her beliefs and desires create situations that there's no easy way out of. At the same time, her genuine goodness shines through. I also appreciated how well developed the supporting characters were. Their lives wind their way throughout the tale, introducing readers to the entire town, rather than simply the main characters.
This is a small town romance that's worth its weight in gold, or silver, as the case may be.
Book Links