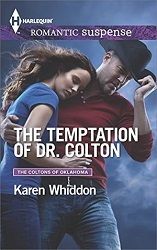 Title:
The Temptation of Dr. Colton
Series:
The Coltons of Oklahoma
Author:
Karen Whiddon
Publication Date:
August 1/15 by Harlequin Romantic Suspense
Length:
288pgs
Genre:
romantic suspense
Shelf:
Netgalley
Rating: ★★★★
Back Cover Blurb:
The Coltons of Oklahoma series continues…and for one Colton doctor, the prognosis is deadly…
After a hit-and-run, all the frightened victim can remember is the handsome Dr. Eric Colton, who rescued her. She has no identity and no memory, other than the flash of a gunshot and a man's name. But she knows she's in grave danger.
Eric can't explain his irresistible attraction to the mystery woman who, in hours, transforms him from workaholic surgeon to vigilant bodyguard. He can't let her out of his arms, not when danger stalks her. But why? What lies hidden in her mind? Eric doesn't know what she's forgotten, but he knows people will kill to ensure she never remembers…and it's up to him to stop them.
My Review:
What a unique and suspenseful story. Whiddon has taken the Coltons of Oklahoma and given them a twist. She builds up the suspense and danger throughout. The combination of the known events of the story and trying to guess what it is that MW has forgotten truly had me guessing. Every time I thought that I had it figured out, Whiddon would throw a new twist at me. Not only does the world of the series become more developed, but the mystery within this story itself is unforgettable.
I love how the characters really took off in this series. The hidden depths of Eric's character clash with yet also enhance MW's missing memories. Their instant attraction added even more twists to the already intriguing storyline. Not only were the main characters unforgettable, but the rest of the family really comes to life as well. I'd really like to know why the Coltons seem familiar to MW. I hope it comes out later in the series.
This novel is definitely a great addition to the Colton's of Oklahoma series. Whiddon kept me on my toes while also telling me a story that captured my heart.
Book Links