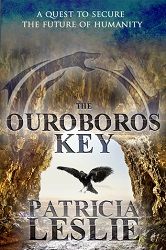 Title:
The Ouroboros Key
Author:
Patricia Leslie
Publication Date:
March 23/14 by Odyssey Books
Length:
322pgs
Genre:
fantasy
Shelf:
Netgalley
Rating: ★★★★
Back Cover Blurb:
Prophetic dreams have haunted Dan Tenney since childhood, foretelling him of a life-changing event that is soon to take place. But before he can learn the meaning of his visions, he is attacked by a shadowy group of extremists: the Brotherhood of the Grail.
Finding sanctuary underground, an ancient relic comes into his possession and Dan begins to understand the path his visions have laid out before him. His quest will be fraught with an otherwordly people and an event that could tip the balance in favour of human existence—or disastrously against it. The mysterious Brotherhood will do everything in their power to prevent Dan from fulfilling his destiny as the Bearer of Ouroboros.
My Review:
Detailed yet eloquent descriptions set the scene for this novel. There is lots of scene setting throughout, every time that they changed location. It had an eerie and foreboding feeling, while also suspenseful and intellectually stimulating. There is a very believable mystic quality to the tale that isn't overly pronounced, even though it is infinitely important. The mixing and melding of mythologies and their parallels had me on pins and needles. It did take me a bit to catch up with the action of the story and figure out just what was going on, but when I did, I was hooked.
The questers were such an intriguing bunch. I loved how different they each were and how entrenched in modernity they kept the story. The mixes of personalities had me feeling as if I were really part of the group. I loved the random things that each group member contributed.
Did I enjoy this novel? You can bet it. Do I see potential for a sequel? Heck yes, I'm dying to read it. I'd love to see what happens next in this captivating world.
Book Links