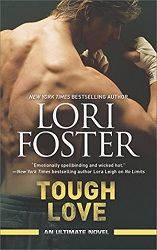 Title:
Tough Love
Series:
Ultimate #3
Author:
Lori Foster
Published:
August 25/15 by HQN Books
Length:
384pgs
Genre:
romantic suspense
Shelf:
Netgalley
Rating: ★★★★★
Back Cover Blurb:
Vanity Baker loves a good, clean match, but she's not above playing a little dirty. She's wanted Stack "The Wolf" Hannigan from day one. Seems as though the best way to corral the famously commitment-phobic fighter is to insist on keeping it casual. And her plan works--deliciously well--until Stack's past steps out of the shadows.
Stack learned early to stay free of attachments. But with sexy, forthright Vanity, he's the one always left wanting more. Then his troublemaking family comes back into the picture, threatening everything Stack cares about--Vanity included. Suddenly he realizes they're much more than friends with benefits. He's ready to go to the mat for her…but will it be in time to protect the woman who's tamed him for good?
My Review:
Welcome to the world of mixed martial arts fighting, where the guy play hard & love harder. Foster develops the plot of her tale intricately & intimately, taking readers for one heck of a ride. I loved the variety of different aspects of life, love & loss that Foster brings into play. Suspense & chemistry, danger & raw lust kept me glued to the pages.
I love the way that Foster develops her characters. It feels so personal, like we're truly being introduced. The main characters' viewpoints are so apparent throughout. I love how Foster gives us each of their points of view without breaking the story into 'his' and 'hers' sections. I got a kick out of Vanity & Stack's relationship. They were so much fun. They truly complemented and contrasted with each other perfectly.
Once again Foster has created a one of a kind novel that brings real life to play in unforgettable ways. It's a story that I'd recommend to any who enjoy a great story.
Book Links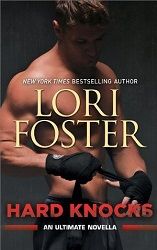 Title:
Hard Knocks
Series:
Ultimate #0.5
Author:
Lori Foster
Published:
August 4/14 by HQN Books
Length:
61pgs
Genre:
contemporary romance
Shelf:
own
Rating: ★★★★★
Back Cover Blurb:
In the stunning prequel novella to her new mixed martial arts series, New York Times bestselling author Lori Foster brings together an elite fighter and the woman he's determined to win.
Power. Brute strength. Unforgettable moves. It's no wonder Harper Gates hasn't been able to get her fling with Gage "Savage" Ringer out of her head. Months have passed since she laid eyes—or any other body parts—on him. Months without a word of contact… until, sidelined by injury, he comes back to town.
Staying focused on his training seemed like a smart move to Gage, even if he thought about Harper every day. Seeing her again only makes it clear how much is at stake. He's got one night to earn back her trust. One night to show her that behind his breathtaking skill and ripped body is a man who'll give her everything she needs.
My Review:
This novel was an intriguing look at the live and relationship of a MMA fighter. There are scenes so hot that I swear there was steam rising from the pages. These scenes intermingle with down to earth, real life interactions between the characters. Foster definitely brings the rec centre & the world surrounding it to life.
I love the way that Foster puts Gage's inner turmoil and struggle to paper, not only does it give you a deeper sense of who he is but it also develops the story in an unmistakable way. I loved this intro into the fighters. She sets them up perfectly for the series.
My biggest disappointment with this one? The fact that it wasn't a full length novel. Don't get me wrong, it's a complete story in and of itself and I absolutely adored it, but I so loved these characters and I didn't want to let them go. Foster definitely has me hooked on this series!
Book Links