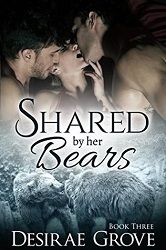 Title:
Shared by her Bears book 3
Series:
Evergreen Height #3
Author:
Desirae Grove
Publication Date:
June 23/15
Length:
70pgs
Genre:
paranormal erotic romance
Shelf:
review
Rating: ★★★★
Back Cover Blurb:
Angie Wilder's past is shrouded with secrets. Since she was a child, she's woken with her sheets shredded and unexplained scratches on her headboard. As she matured, Angie became aware of her seductive power over men. Her curvaceous body lures them, even as she fights the need to succumb to her desires. Warned by her parents that she has a greater purpose in life than falling for one of the local boys, Angie struggles to stay innocent while her body betrays her.
Angie's allure eventually puts her family in danger, and she's forced to flee. Her mother tells her to find a place called Evergreen Heights, and from the moment she steps foot into the idyllic town, she feels like she may have found her true home. Especially once she meets Hank and Woody, the handsome and rugged leaders of the small community. Soon enough it becomes clear that the burly bachelors have been waiting for her their entire lives. Now they just have to convince Angie she doesn't just belong in Evergreen Heights, she belongs with them.

**This hot and steamy bear shifter menage romance is perfect for the fans of Milly Taiden, Terry Bolryder, Anya Nowlan, and T.S. Joyce**

Author's note: This book contains very steamy and creative adult situations. If you like your romantic bear shifter menage stories with the heat level turned way up, this is the story for you. Enjoy!
My Review:
This hot & sensual story combines the best of the shifter world with the worst of humanity. Grove has created a fast paced & entertaining conclusion to her Shared by her Bears serial that I didn't put down for a second. Danger and happily ever after vie for top spot in this tale that takes you to a world unlike our own, yet so easy to imagine. Grove further defines what it means to be Bearkin and what it means to be a queen in this society. The similarities and differences between the Brother & the Uncle clan come out in spades in this story. I also enjoyed finding out that there are more clans throughout the US that are Bearkin as well.
By the 3rd instalment in this series the characters really come alive as individuals. Hank, Woody, & Angie are the type of individuals who really stole my heart. It was so easy to see them working together as a unit. I loved the conversations between the characters. I could hear them in my head, each with their own voice that suited them perfectly.
This was definitely the perfect conclusion to the Grove's Shared By Her Bears serial. I thoroughly enjoyed how she wrapped everything up while still leaving the door open for more adventures from Evergreen Heights.
Book Links